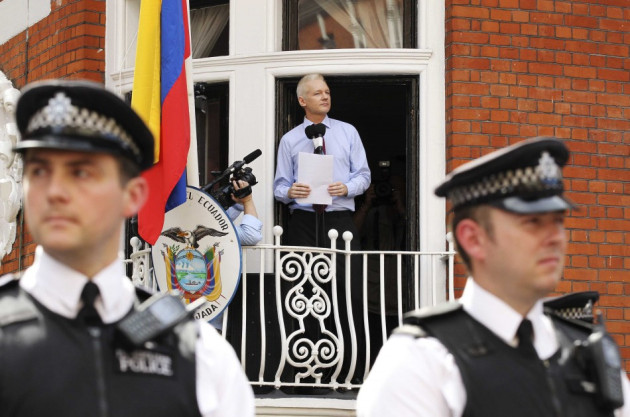 Ecuador's decision to grant political asylum to WikiLeaks founder Julian Assange has received strong backing from the country's South American neighbours.
Members of the Union of South American Nations (UNASUR), a 12-state bloc modelled on the European Union, have condemned Britain's threat to storm the Ecuadorian embassy, which is currently providing sanctuary to Assange.
Although UNASUR has not directly commented on Assange's case, its members have reaffirmed a state's unassailable right to provide asylum if it so wishes.
The Union met specifically to discuss the Assange issue, convening for around 20 minutes in the Ecuadorian city of Guayaquil.
In a brief statement after the meeting, UNASUR resolved "to express [its] solidarity and support the government of the Republic of Ecuador [against] the threat of violation of your local embassy, and reaffirm the sovereign rights of states to grant asylum."
The seven-point statement also emphasises the 1961 Vienna Convention, which guarantees the inviolability of embassies on foreign soil.
Ecuador's foreign minister Ricardo Patino, who was present during the meeting, was seen in an upbeat mood after UNASUR Secretary General Ali Rodriguez read out the statement.
Although several Latin American countries, including Brazil, Colombia, Chile and Mexico, have yet to declare their stance on the issue, a cluster of countries ruled by leftist governments have publicly backed Ecuador, including Cuba, Venezuela, Argentina and Bolivia.
Speaking from the pulpit
In London, Assange has addressed a substantial crowd from the balcony of the Ecuadorian embassy - and thanked the watching world for preventing the British from seizing him.
He told the assembled throng: "Inside the embassy, after dark, I could hear teams of police swarming up into the building through the internal fire escape. But I knew that there would be witnesses. And that is because of you.
"If the UK did not throw away the Vienna convention the other night that is because the world was watching. And the world was watching because you were watching."
Assange also used his platform to urge the United States to "renounce its witch-hunt against WikiLeaks. The United States must dissolve its FBI investigation. The United States must vow that it will not seek to prosecute our staff or our supporters.
"The United States must pledge before the world that it will not pursue journalists for shining a light on the secret crimes of the powerful."