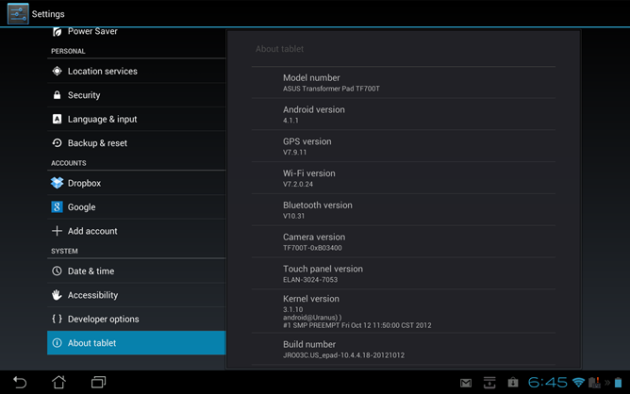 Asus is rolling out a minor update to its Transformer Pad Infinity (TF700). The update is said to bring along some minor bug fixes, according to Android Police. Although the update would reportedly change the build number from v10.4.4.16 to v10.4.4.18, it would retain the recently received official Android 4.1.1 version.
To avail of the over-the-air (OTA) update, users may head to Settings > About tablet > System firmware update. Users can have a look at the changelog below, courtesy of Android Police.
Fixes the issue with Facebook app that would crash when users tried switching to front camera
Fixes the issue in regard to 802.1x Wi-Fi access points which would not get connected after users upgraded to Jelly Bean
Asus software keyboard (All SKUs)
Fixes the issue that "Y" and "Z" characters are opposite in Asus Czech (QWERTY) keyboard
Fixes the issue in regard to Backspace key on dock which does not work in Browser input field in order to delete words randomly
Fixes the issue with Google Search widget in the "Widgets" page that would show the message saying "this widget not responding"
Browser (All SKUs except CN SKU)
Google Bookmark sync function has been added to the Android default browser
Fixes the issue with the tablet encrypted in Ice Cream Sandwich and Wi-Fi turned on, while users were not allowed to enter system after upgrading their device to Jelly Bean
Recently, the Asus tablet received an OTA update to firmware version 9.4.5.30 that came along with few bug fixes and brought changes to the tablet's camera and boot animation. Transformer Pad Infinity that was released in July is powered by Nvidia Tegra 3 T33 chipset with quad-core cortex-A9 processor, clocked at 1.6GHz. The 10.1in display sports Super IPS + LCD capacitive touchscreen with a resolution of 1920 x 1200 pixels.