Key Features
13.3in display (1920 x 1080)
Intel Core M–5Y10 processor
8GB RAM; 128GB SSD
Windows 8.1
Weighs 1.2kg; 12.3mm thin

Price as reviewed: £649
Asus UX305 Review
The Ultrabook revolution which Intel championed a couple of years ago has all but died a death with the terms barely getting a mention these days.
Asus however is one of the companies which has consistently produced these thin and light laptops to challenge the dominance of the MacBook Air.
And with its latest model, the £649 UX305, it may have just refined the Ultrabook standard to its most distilled and perfect example yet.
---
Asus UX305: Design
---
Asus has always had a great design aesthetic for its Ultrabook range, with a premium metallic feel to all its models and that iconic concentric circle motif on the lids.
The UX305 is an incredibly thin and light laptop yet its construction feels strong and during my testing I never once thought it insubstantial. At 1.2kg it is lighter than the 13in MacBook Air (which is saying something) and at 12.3mm is thinner than Apple's laptop at its thickest point.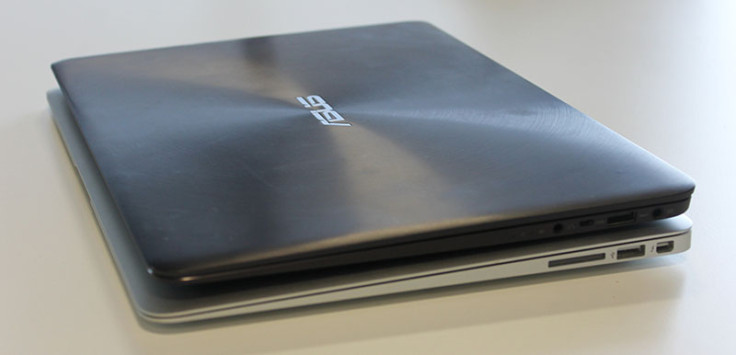 Carrying this around Mobile World Congress earlier this month was a joy. Slipping it into my bag, it didn't weigh me down and as well as being ultra-portable, it looks and feels great.
---
Asus UX305: Screen
---
If you look up the UX305 on Asus' website you will be greeted with a page about a version promising a touchscreen with a huge QHD+ resolution (3200 x 1800) but that model is yet to see the light of day in stores.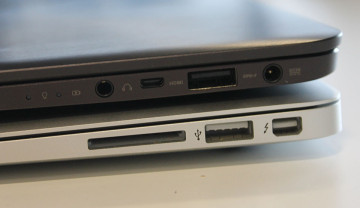 The model I was using has a more prosaic 1080p resolution and no touch interface. But that's not a problem. The screen is bright and sharp - it may not come close to the sharpness of Apple's new Retina Macbook, but the IPS panel on the UX305 is more than sufficient and has great viewing angles as you might expect from an IPS screen.
There was a tiny amount of backlight bleed along the bottom of the screen, but all-in-all this is a very decent screen.
---
Asus UX305: Hardware, performance and battery
---
The Asus UX305 is among the first laptops to use Intel's Core M chips. These are part of Intel's fifth generation Core processors (codenamed Broadwell) but unlike the Core i5 and Core i7, the Core M chips boast huge battery life improvements.
The downside is in performance, and there is no denying that even with 8GB of RAM, the UX305 did slow significantly when challenged to do multiple actions at once, but for 90% of what I wanted to do on this laptop (word processing, light image editing, web browsing, streaming video) it worked fine.
If battery life is what you value over performance, then this is where the UX305 shines. Battery tests show the laptop gives you 12 hours of use, and in real world tests I managed to get through a whole day of work at Mobile World Congress (including three press conferences) with battery still left in the tank. This matches the performance of the MacBook Air which is the standard bearer in this area.
---
Asus UX305: Keyboard, touchpad and connectivity
---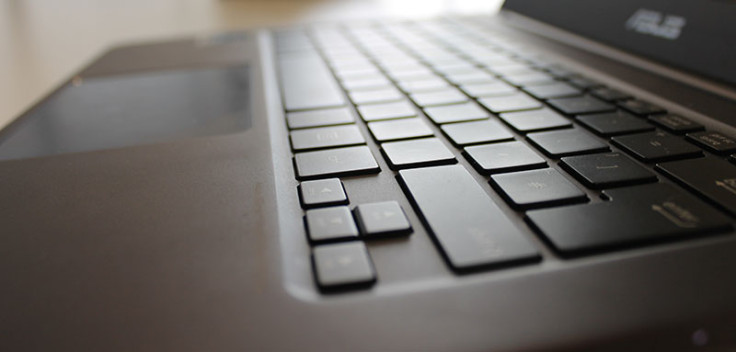 The keyboard on the UX305 is great - expect for one very annoying thing. It has no backlight.
While most people using this in brightly lit rooms won't find it a problem, for me trying to type in dimly lit conference halls was near impossible and a real bug bear. Clearly Asus has had to cut costs somewhere, I just wish it wasn't here.
The trackpad is nothing to write home about. Overly sensitive (even after reconfiguration) it just highlighted how good Apple's trackpads are.
Despite this being a ultra-slim laptop, the connectivity is excellent. You get three USB ports, all of them the fast USB 3.0 standard, as well as an SD card reader and a micro HDMI port. Wireless connectivity supports the fast Wi-Fi AC standard and you also get Bluetooth 4.0.
---
Asus UX305: Value and verdict
---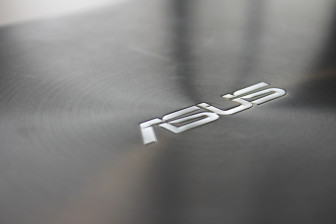 For £649 (128GB model) the UX305 represents exceptional value. This is a well-made, beautifully designed laptop which is thin and light and the perfect travel companion.
The entry-level 13in MacBook Air is £200 more expensive while Ultrabook competitors like the Lenovo Yoga 3 Pro (£999) and the new Dell XPS 13 (£799) are also more expensive.
There are some issues. Performance is not stellar and the lack of a backlight for the keyboard is an annoyance but considering the good screen, superb battery life, great connectivity and low price, it is hard to argue that this is not the best Ultrabook ever built.
Asus UX305 Scores
Screen: 9/10 - Sharp and bright with great viewing angles.
Design: 10/10 - Slimmer and lighter than the MacBook Air, the UX305 has superb build quality.
Performance: 8/10 - Intel Core M chip offers sufficient power but won't replace your desktop.
Value: 10/10 - At £649 the Asus UX305 is exceptional value for money.
Overall: 9/10 - It lacks a bit of power and a backlit keyboard, but otherwise this is a great laptop.
The Good:
Exceptional value for money.
Class-leading battery life.
Ultra-portable.
The Bad:
Core M processor lacks real grunt.
No backlight on keyboard.
Overly sensitive touchpad.