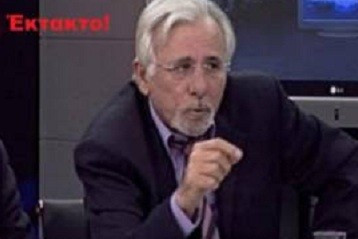 Another journalist has been arrested in Greece, this time over threats to reveal on air classified documents on the financial bailout between government officials and the rescue "troika" - the European Commission, European Central Bank and International Monetary Fund.
Renowned broadcast journalist Spyros Karatzaferis, brother of the leader of the right-wing LAOS party George Karatzaferis, was taken into custody after he appeared on a local station in Arta, western Greece.
He said he had obtained classified documents, including email exchanges between the government and the troika, from the Anonymous hacking collective, which broke into the country's general accountancy system.
Karatzaferis was arrested after the show on an old warrant issued against him alleging libel.
His arrest came after journalist and whistleblower Costas Vaxevanis was sent to trial for publishing a list - dubbed the Lagarde List - of Greeks who held Swiss bank accounts.
Two thousand names were published in Hot Doc magazine.
According to AFP, the list was originally leaked by an HSBC employee and handed over by the then French finance minister Christine Lagarde to Greek authorities two years ago.
Vaxevanis said the government of prime minister Antonis Samaras was trying to silence critics while protecting politicians and the country's elite.
"The prosecutor's office wants to protect tax evaders. I'm just doing my duty," he said.
"Instead of arresting the tax evaders and the ministers who had the list in their hands, they're trying to arrest the truth and freedom of the press."
Reporters Sans Frontieres appealed for his release, the Organisation for Security and Cooperation in Europe's representative on freedom of the media, Dunja Mijatović, expressed concerns, and netizens rallied to his support on Twitter
Meanwhile, Greek state television journalists have started a series of strikes after two presenters were suspended for criticising a government minister.
State NET TV yanked a report by Marilena Katsimi and Costas Arvanitis that backed accusations of police torture and asked the public order minister to resign over it. They were suspended for making "unacceptable allusions" about the minister, Nikos Dendias.
Dendias has rebutted allegations of torture.
"About an hour after the programme ended, the director of information called for a transcript," Katsimi told the Guardian. "He didn't ask to talk to us. And it was then announced that two other journalists would present tomorrow's show. We were cut."
The Guardian published a report by The Nation's Maria Margaronis in which detainees spoke out about "Abu Ghraib-style humiliation" at the police HQ in Athens. Dendias said he would sue the newspaper for defamation.
Greece Unions Urge General Strike in Cutbacks Protest [VIDEO]