Could you imagine a north London derby or a Real Madrid-Barcelona Clasico with supporters sitting together in the stands – and all without the need of stewards? Sadly, it is a utopia nowadays, despite Fifa's efforts to promote values such as integration and respect among the supporters. However, we can find an oasis of brotherhood in the Spanish La Liga: the Real Sociedad vs Athletic de Bilbao Basque derby, a local duel on par with Liverpool and Everton. The game represents the greatest example of fair play in European football: a rarity that should be highlighted as an example for the rest of the continent.
Despite being one of the main hotspots of La Liga in terms of passion, football culture and support, the Basque Country derby is an example of fierce competition on the pitch and chants, noise, respect and joy in the stands and on the streets. Real Sociedad's triumph at Bilbao on Sunday [21 February] was again a colourful exhibition of harmony. Here is why this ferocious rivalry deserves significant recognition.
It was an example of democracy in days of dictatorship
On December 1976, months after General Franco passed away, the Basque flag was still banned. The political situation was tricky so, leaving footballing tensions aside, captains of both clubs (Real's Inaxio Kortabarria and Athletic's José Ángel Iribar) displayed the flag before the match. The players were not looking to make a political gesture, but instead help take a step towards democracy in order to legalise the 'Ikurrina'. Fans of both sides celebrated the gesture in Real Sociedad's Old Atocha Stadium with a memorable ovation and sure enough any display of the flag was legalised months later. It is considered as one of the biggest moments in Spanish football.
Basque players are role models for their own fans
In the days of social media, players all over the world need to think twice before posting a tweet or photo in support of a fellow player if the club he is playing for is an arch rival – but that is not the case among Real Sociedad and Athletic footballers. They do not hide their friendship and express admiration publicly for their 'enemy' even days before the Basque derby. For example, Iñigo Martínez admitted to Noticias de Gipuzkoa that he admires Aritz Aduriz, the superb 35-year-old forward, despite his reputation as a dirty player among Sociedad supporters. "I love playing against him – he gives his 100%, he is a fighter, it is a pleasure to play against him. Outside the pitch he is a great person."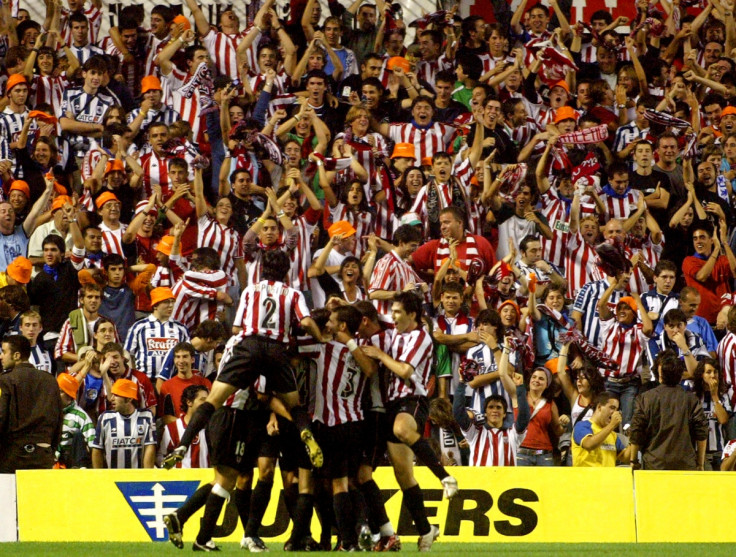 Both clubs organise fan marches before the derby
San Sebastian and Bilbao are separated by just over 60 miles. So it is very common to see over 5,000 thousand away fans in every Basque Derby. Instead of segregating rival fans, both clubs organise a march to the stadium known as 'kalejira'. Supporters of both teams walk for half an hour to the stadium after drinks and tapas in Old Town, in an astonishing duel of chants. The parade includes jokes, laughs and an idea that football is the most important of all unimportant things; Basque football at its finest.
Away days in the home supporter stands
Whether it be at the Camp Nou, Santiago Bernabéu, Anfield or Old Trafford, there is a law that you should follow as an away fan in order to avoid trouble. Among them includes sitting in the opposition's end; at least with the intent of displaying your support. This applies to 99% of the Europe's top football grounds with the exception of Real's Anoeta Stadium and Athletic's San Mames. Rival fans stand together; shouting at the referee, celebrating goals and booing the opposition players.
Home games in the rival's stadium
They might be rivals, but whenever they need help, they can rely on their nearest and dearest. Three seasons ago, while Athletic's San Mames Barria was still under construction, the Bilbao side played in the unfamiliar setting of Real's stadium, Anoeta, in San Sebastian. Equally, the 'txuri-urdins' have played four games at San Mames as the home team, two of them in European competitions.
Should Fifa award Basque football the fair play award?
Taking into account the kind of remarkable behaviour recognised with the fair play award by Fifa since 1987, it might be time for Basque derby to be recognised. One of the most wonderful parties in European football and a symbol of democracy since 1976, the time has come.