Audi, BMW and Daimler near deal to buy Nokia Here Maps for over €2.5bn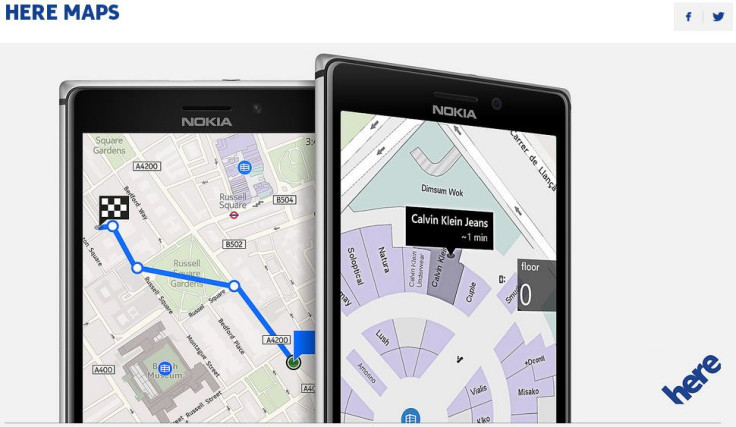 German luxury carmakers Audi, Mercedes-Benz and BMW are looking to bolster their mapping service with the acquisition of Nokia's Here Maps.
Audi, a unit of Volkswagen AG, Mercedes-Benz parent Daimler AG, and BMW AG have agreed in principle to purchase Here, the Wall Street Journal reported, citing people familiar with the matter.
They agreed to pay slightly more than €2.5bn (£1.7bn, $2.7bn), prevailing over other Silicon Valley bidders, the report added.
The deal is not yet certain, the sources cautioned.
If a deal is made, the German firms will invite their global peers such as Fiat Chrysler, Renault, PSA Peugot Citroën, Ford Motor Co., Toyota Motor and General Motors to invest in Nokia Here, according to the report.
"The goal has always been to run the service as an open platform for everyone," the WSJ quoted one of the sources as saying. "The final signing could take place in the next few days."
There were reports that social network Facebook, ridesharing service Uber and US private equity firm Hellman & Friedman were vying for Here, along with the German automakers.
After the acquisition of smaller network equipment rival Alcatel-Lucent, Nokia announced a strategic review of the Here unit, which is the company's three remaining businesses after the sale of its handset unit to Microsoft. The unit was put on sale by Nokia in April.
The Finnish company built its mapping and location business on the back of an $8.1bn acquisition in 2008 of US-based Navteq, a maker of geographic information systems used in the automotive industry. The sale comes as Nokia looks to focus on its wireless-network unit for better growth.
The New York Times earlier reported that Uber was willing to pay $3bn for Here Maps.
While Google Maps has the biggest presence among smartphone users, Here Maps dominates automobile mapping, with a global market share of more than 80% for built-in car navigation systems.
Based in Berlin, Here employs about 6,000 people worldwide. The unit reported yearly revenue of $1.1bn, or less than 8% of Nokia's total sales in 2014.
© Copyright IBTimes 2023. All rights reserved.