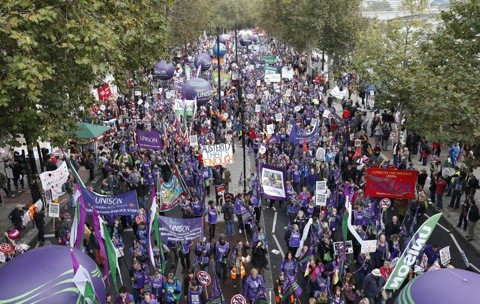 Tens of thousands of people took to the streets of Britain's major cities on Saturday 20 October, to protest against the governing Conservative-led coalition's ongoing programme of spending cuts.
The nationwide day of marches was organised by the Trades Union Congress (TUC), which claimed that 100,000 people had taken part.
The biggest demonstration was in London, where marchers walked from Victoria Embankment to Hyde Park, where Labour Party leader Ed Miliband addressed the crowd at an end-of-march rally.
Miliband said that his party was there for "young people in this country who want work, but can't find it in Britain today".
Overall, the Labour leader received a mixed reception. He was cheered when he referred to Chancellor George Osborne's recent decision to travel first class by train while carrying a standard class ticket.
However, he was roundly booed when he admitted that, if elected, a Labour government would have no choice but to continue with a programme of cuts.
"I have said whoever was in government now there would be some cuts, but this government has shown that cutting too far and too fast, self-defeating austerity is not the answer, it is not the answer to Britain's problems," he said.
Miliband then returned to safer ground, claiming that the Conservatives "cut taxes for millionaires and raise taxes for ordinary families", and calling Prime Minister David Cameron "weak and clueless".