Scientists in Western Australia have developed a novel solution to tackle shark attacks - harnessing the power of twitter.
A team of researchers from the Surf Life Saving Western Australia rescue group have tagged 320 sharks in the surrounding seas with transmitters, which will track their movement.
If a shark swims within 1km of the coast, the transmitter will automatically generate an automated tweet on SLSWA's page.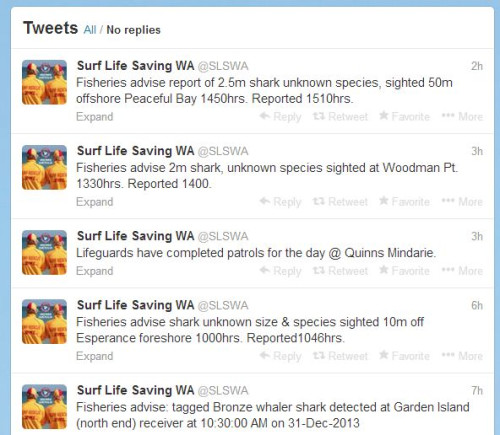 The live tweet service, which works in co-ordination with the helicopter beach patrols, will also mention the species of shark and its exact distance from the shore and the time of its sighting.
According to SLSWA, the system is faster than telephone, radio or newspaper in sending warnings.
Chris Peck, from SLSWA, told Sky News that with the traditional system "you might not have got some of that information until the following day in which case the hazard has long gone and the information might not be relevant.
"Now it's instant information and really people don't have an excuse to say we're not getting the information, it's about whether you are searching for it and finding it."
The Department of Fisheries, Western Australia, also expects to collect relevant scientific data about sharks for research purpose through the transmitters.
"The battery life of internal acoustic tags is up to 10 years so the scientific data that may be collected from this shark is unprecedented," said Dr Rory McAuley from the department.