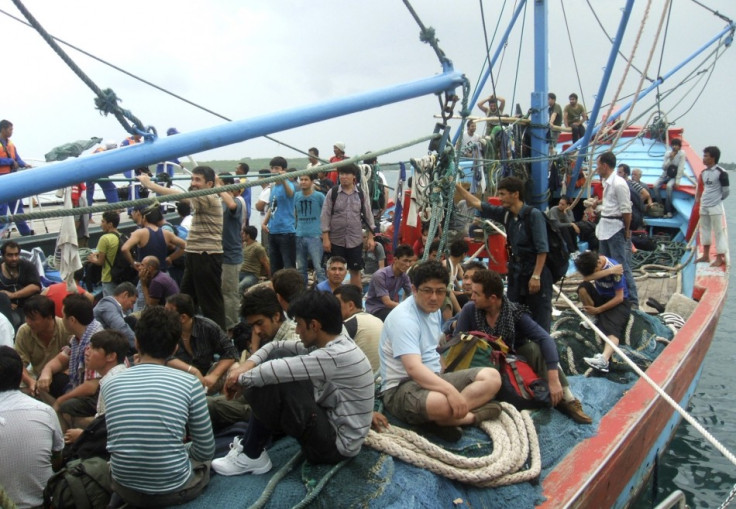 Australian immigration officials say they have masterminded a new plan to deter asylum seekers from trying to reach Australia by boat.
Officials say they plan to film the first group of asylum seekers processed under the new refugee swap deal with Malaysia and post the video on YouTube.
The first group to arrive as part of the under the "Malaysian solution", which will see Australia send 800 arrivals to Malaysia and accept 4000 certified refugees in exchange, are expected to arrive on Christmas Island this week.
Once arrived at an offshore detention centre on Christmas Island, a remote Australian territory in the Indian Ocean, the asylum seekers are expected to undergo health checks before being sent to Malaysia's capital city, Kuala Lumpur.
Officials have now said that the all process will be filmed and posted the video-sharing website.
Chris Bowen, the immigration minister, claimed that posting the videos online would send a clear warning to people-smugglers by showing that all attempts to illegally enter Australia will instead see them head to Malaysia.
"We know that people-smugglers tell lies, we know that people-smugglers will be out there saying, 'Look, this won't apply to you' ... because they are desperate to make money off desperate people," he told ABC radio.
"We know that many asylum-seekers throughout the region do follow closely what's happening in Australia; they follow closely announcements of policy changes and they are watching this arrangement quite closely." Last year more than 50 asylum seekers died off Christmas Island after their flimsy wooden boat broke up in high seas.
For security reasons officials have said that the faces of the asylum seekers will be pixilated, before adding that the clips posted online will be available in up to eight languages: English, Tamil, Arabic, Dari, Farsi, Pashto, Sinhalese and Bahasa.
It is not the first time that the Australian government has used YouTube videos as a campaign against people smuggling before, but it is the first time that images of real asylum seekers will be used.
The announcement of the plan to film asylum seekers comes as the public waits to see if the Malaysia solution does indeed cut the number of boats arriving at Christmas Island., has staked her reputation on the policy, and is desperate for it to pay off.
In an attempt to curb the number of asylum seekers, this week, Julia Gillard, the embattled Australian Prime Minister Earlier granted federal police special powers to force asylum seekers onto planes to Malaysia.
The new deal with Malaysia has been criticised by Human rights groups who insist that Australia may be in breach of its international obligations. They have also warned against possible mistreatment of asylum seekers in Malaysia, which is not a signatory to the United Nations convention on refugees and imposes harsh punishments for illegal entry, including caning.
Border protection is a high priority with Australian voters, although United Nations figures show their country receives less than a half-per cent of the world's asylum seekers.