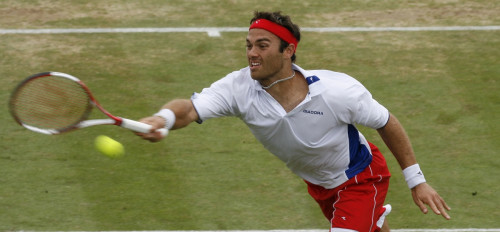 Ross Hutchins marked his first Grand Slam outing since recovering from cancer with victory alongside doubles partner Colin Fleming as the pair progressed to the second round of the Australian Open.
As temperatures soared past 40 degrees for a second day at Melbourne Park the duo overcame home favourite Marinko Matosevic and Poland's Michal Przysiesny 4-6 6-4 6-0.
Hutchins, 28, missed all of last season after being diagnose with Hodgkin's lymphoma in December 2012 and following 12 months of recovery he returned with Fleming in Brisbane last year.
The pairing sufffered defeat upon being reunited and in the second round in Aukland but have recorded the first signficant win since Hutchins' return.
"It's an amazing feeling to be back, and especially to get our first win since coming back in 2014," said Hutchins.
"I think we have played some good tennis throughout this year so far, but unfortunately we lost our first two matches. My level probably wasn't as high as I hoped it had been.
"But I think we did well to dig out a win today. It was brilliant and I'm loving the feeling right now."
Fleming added: "When we won I felt a bit emotional myself. I don't know how Ross felt, but just to get that first win under our belt [was great].
"Obviously we had played a few matches, but the first win is a real release and I'm looking forward to playing again in the next couple of days."
It is the first time since they reached the last 16 at the 2012 US Open that the British pair have appeared at one of the four grand slams.
"It's been a strange 12 months," said Hutchins. "I don't actually remember that clearly the last year. So much has happened in terms of other things off court and with the illnesses and different issues.
"But I don't tend to think of it as, 'Oh, a year ago I was in hospital'. I almost think that, 'Well, I've still been playing the last six or seven years and I'm back with Colin'. It doesn't feel like I've missed a year."
The ambitious duo were watched on by Andy Murray and the rest of the British contingent as they came back from a set down to seal the emotional victory.
Elsewhere, Novak Djokovic and Serena Williams eased past their opponents and into the third round.
Djokovic thrashed Argentinian Leonardo Mayer in straight sets 6-0 6-4 6-4 after an early ankle scare.
Watched on by coach Boris Becker the Serbian produced an impressive performance in the opening exchanges which saw him concede just eight points to Mayer in a set which lasted just 22 minutes.
Williams meanwhile took just 63 minutes to defeat Serbian opponent Vesna Dolonc 6-1 6-2 and earned a record equalling 60th win at the Australian Open, matching Margaret Court.
Williams will be joined by fourth seed Li Na in the third round while Tomas Berdych and David Ferrer also progressed in the men's draw.