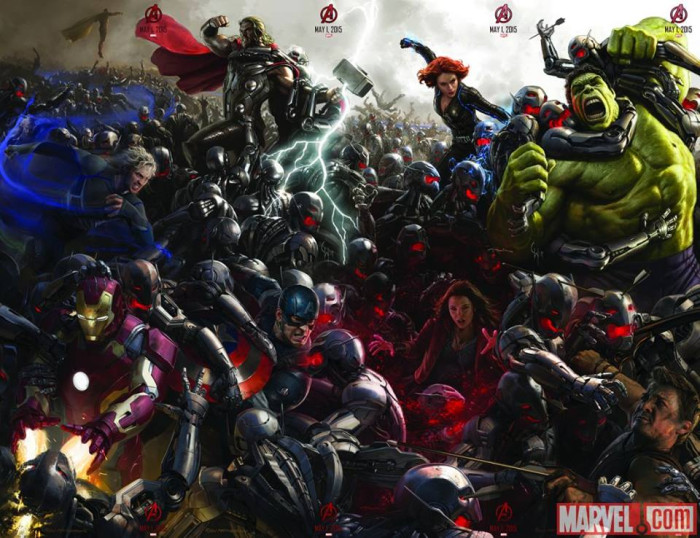 Marvel fans are getting closer to enjoying The Avengers 2!
Director, Joss Whedon announced that production has wrapped on Avengers: Age of Ultron, the upcoming Marvel Studios blockbuster that brings Iron Man, Captain America, Hulk, Thor, Black Widow and Hawkeye back together again, along with some new friends and foes — including the titular cybernetic overlord, Ultron.
He tweeted a picture of himself on the set, titled: 'Avengers Two Wrapped.'
— Joss Whedon (@josswhedon) August 6, 2014
He also tweeted a picture of the Avengers crew:
My crew. No: the crew I got to be a part of. These (and more) people made the movie, and made my year. pic.twitter.com/7kFqFhcOG7

— Joss Whedon (@josswhedon) August 7, 2014
Joss Whedon offered his thoughts on Marvel and DC movies, as well as how Age of Ultron will potentially connect to both Guardians of the Galaxy and Captain America: The Winter Soldier.
The last time we saw Steve Rogers, Captain America, he was in search of his old friend Bucky Barnes, who had become The Winter Soldier.
When asked how Age of Ultron would bridge that gap between Captain America 2, Whedon said, "The fact is, Ultron is a clear and present danger and Bucky's in the wind. We do mention the fact that that's his sort of primary thing, but he's also working with The Avengers too. We're not ignoring it, but he definitely has to deal with a mad 8 foot robot, because that's one of those things that you put it off and it just gets worse"
How The Avengers will join forces with The Guardians of the Galaxy?
In an interview with Nerd HQ about DC films, Whedon said, "I think that both studios [Marvel and Warner/DC] have kind of different agendas, different ways of approaching the superhero genre, and the ethos of the thing, and the esthetic. They go very dark and serious and sometimes it works amazingly, and Marvel tends to be a little lighter."
He further explained, "Kevin Feige has a big plan and every now and then, he'll tell me part of it if he thinks it's going to affect what I'm doing or if he thinks what I'm doing is going to affect his.
"But as much as possible, I try to live in my own bubble. Guardians is very much its own thing. They're not the Guardians of this galaxy; it's a different one. So, I can sort of keep them at arm's length, long enough to do my thing and then I'm sure everything is going to get mixed together because it's Marvel."
The Avengers: Age Of Ultron is due to hit UK cinemas on 24 April 2015.