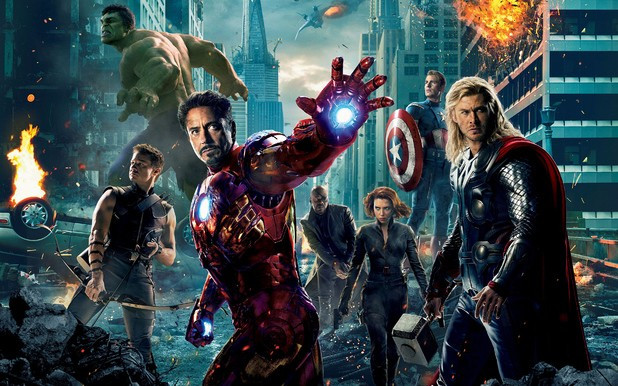 Just recently, fans got a glimpse of Hulk mania being filmed for Avengers 2. The crew was shooting some scenes featuring the Hulk in Johannesburg, South Africa.
Now, the much talked about new additions to the superhero team, Scarlet Witch and Quicksilver have been caught on camera while filming.
Avengers: Age of Ultron is now filming in Italy. Aaron Johnson and Elizabeth Olsen were spotted on set, giving an early sneak peek at Quicksilver and Scarlet Witch in the movie, reports Aceshowbiz.
The actors appear to be filming key battle scenes amidst mass chaos, crumbling buildings and cars blowing up.
Take a look at the on-set images below:
The Scarlet Witch! #Avengers2 I can see so many people cosplaying as her already in the future haha pic.twitter.com/jCk0dYwgFf

— Jonathan Perez (@IGIhosT) March 25, 2014
Get your first look at Scarlet Witch and Quicksilver on the set of @Avengers 2! http://t.co/G6cXkAJhot pic.twitter.com/8GhCstcAfu — ScreenCrush (@screencrushnews) March 24, 2014
Still looks better than X-Men DOFP's Quicksilver :/ - Avengers 2's Quicksilver, Scarlet Witch http://t.co/e9so8GmrVG pic.twitter.com/gAwg1MNZpg

— Mister Young (@Mister_Young) March 25, 2014
One of the many stills out so far of Scarlet Witch and Hawkeye from Avengers 2. Cannot wait for this. pic.twitter.com/vcOdn7YQao — Casey Moorehead (@Dravenheart2012) March 25, 2014
Updated with some new @Avengers 2 shots including one of Quicksilver doing his thing: http://t.co/G6cXkAJhot pic.twitter.com/G6TZbzvOxj

— ScreenCrush (@screencrushnews) March 24, 2014
A pre-CGI look at the main baddie, Ultron, was also shown as a man wearing a metallic armor and helmet joined them during the filming.
Close-Up Look At Hawkeye, Scarlet Witch & Quicksilver On THE AVENGERS 2 Set http://t.co/4LLZow2wZr @ComicBook_Movie pic.twitter.com/1RYHnHCA55 — CineFix (@CineFixNetwork) March 24, 2014
The movie is due 1 May, 2015 in the US. Chris Hemsworth is back as Thor, Chris Evans as Captain America, Scarlett Johansson as Black Widow, Mark Ruffalo as Hulk, and Robert Downey Jr. as Iron Man, while the villain is portrayed by James Spader.
Other new faces include Thomas Kretschmann as Baron Wolfgang von Strucker and Paul Bettany as The Vision.