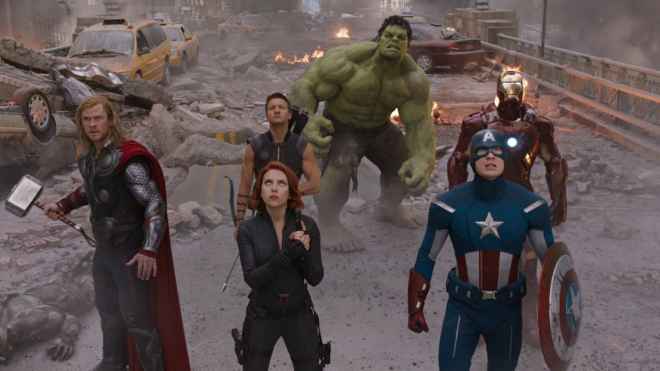 A ton of tidbits about supersized superhero sequel Avengers: Age of Ultron have appeared online.
The cast and crew of Captain America: The Winter Soldier, as well as Marvel Studios president Kevin Feige have been on the film's promotional trail all week talking about the future of Marvel's Cinematic Universe.
So what have we learnt? Well, Jeremy Renner will be happy as Hawkeye is set for a bigger role in the sequel, and the whereabouts of his character between this film and the last will also be covered.
Joining him will be Mark Ruffalo's Bruce Banner and "the other guy" Hulk, who are also set for a beefier role this time around. This is undoubtedly good news for fans who thought he was the best thing about the first film, and it's probably a decision made with that in mind.
Clark Gregg's Agent Coulson may also return to awkwardly explain that his death – which brought The Avengers together – was only temporary because they had a TV show to make. When asked about whether he would appear, Feige told Movies.com: "That is a good question that I probably shouldn't answer for any number of reasons."
Anthony Mackie – who makes his Marvel debut in The Winter Soldier as The Falcon – won't be in Whedon's sequel. He only found out from his co-star (and Captain America himself) Chris Evans. "Chris is a good friend of mine," Mackie told MovieWeb.
"The movie starts in three weeks. I know he's read the script. He's like, 'Yo, man, I read the Avengers script. It's good.' I was like, 'Really?' He said, 'Yeah, Joss (Whedon) is doing rewrites, but it's good.' I was like, 'Great! So... am I in it?' And he says, 'I've got to go. I'll be back.' What do you mean? Why can't you just tell me if I'm in the movie? No one will tell me, not one person, so I gave up on it."
Feige also confirmed that while Scarlet Johansson's recently-announced pregnancy has meant a reshuffle of the Age of Ultron filming schedule, it hasn't resulted in any script re-writes. "Well my first reaction was I was very happy for her and very excited for her," he told Collider.
"My second reaction was we've gotta move some pieces on the chess board around schedule-wise. But we didn't change the script at all, which is sort of the most important things for us in terms of the storyline."