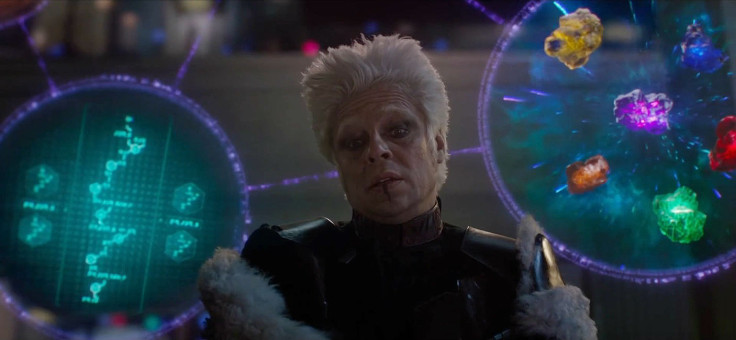 Avengers: Infinity War is already looking to be filled to the brim with Marvel Comics characters from Iron Man, Captain America and co to Guardians Of The Galaxy heroes Star-Lord, Gamora and the rest of the gang. Doctor Strange and Spider-Man have also been confirmed while Black Panther is rumoured, but there's another figure that fans might see make an appearance in the eagerly-anticipated sequel... Benicio del Toro's the Collector.
According to ComicBookMovie, Josh Brolin – who voices supervillain Thanos in the upcoming instalment – streamed a live video on his personal Instagram account detailing how he was soon to start shooting scenes with his Sicario co-star Del Toro. That post has since been deleted but it's worth noting that Del Toro wasrecently photographed in Atlanta, which is where both Infinity War and fellow Marvel outing Black Panther are currently filming.
While Del Toro's involvement is far from confirmed, it would certainly makes sense if he were to show up in Avengers: Infinity War given his character's history with big bad Thanos. In the Marvel Comics, the Collector aka Taneleer Tivan, has been a long-term enemy of Thanos, thanks to his dedication to accumulating priceless objects from across the universe. At one point he even got hold of an Infinity Gem, which most people who have seen . The Collector is after all six Infinity Stones, which would obviously perturb Mad Titan Thanos in his own ongoing quest to retrieve them.
In the cinematic universe, he was first seen in Thor: The Dark World where he made a deal with Sif (Jaimie Alexander) and Volstagg (Ray Stevenson) to keep the Aether (aka the Reality Stone) from getting into the wrong hands. He, of course, appeared again in Guardians Of The Galaxy where he hired Gamora to retrieve the Orb (aka the Power Stone). But everyone who's seen the movie knows how that ended up...
Regardless of whether Del Toro is in the movie or not, Avengers: Infinity War is set to be a star-studded affair with Robert Downey Jr, Chris Evans, Scarlett Johansson, Chris Hemsworth, Elizabeth Olsen, Anthony Mackie, Jeremy Renner, Mark Ruffalo and more reprising their roles as the titular team. Paul Rudd as Ant-Man, Samuel L Jackson as Nick Fury and newbie Brie Larson as Captain Marvel will also make appearances. The film is currently scheduled to reach UK cinemas on 27 April 2018.
For more entertainment news follow A-List on Twitter @Alistinsider