Axl Rose may have to dig deep into his fortune as the rocker is being sued by a former Guns N' Roses engineer. Keyboardist Chris Pitman claims Axl Rose promised to pay him the $125,000 in unpaid wages he was owed in 2011 but he never received any money. Pitman's lawsuit comes just days after it was revealed Guns N' Roses have grossed $117m on their North American tour.
According to the lawsuit obtained by TMZ, Axl Rose, 54, said he was financially unstable at the time and unable to pay Pitman. The musician allegedly gave Pitman a promissory note for services rendered and stated the engineer would be paid by October 2012. Axl Rose has reportedly not been in contact with Pitman since.
Pitman joined Guns N' Roses in 1998 playing keyboard, bass, percussion and sometimes backing vocals but is not part of the band's reunion tour. When the shows were announced in March, Pitman is said to have embarked on a Twitter rant branding the jaunt a "nostalgia tour".
He reportedly added: "Please don't mention those who are there the last 20 fkg years [sic] oh god no! ...(a money grab) FU." Pitman later issued an apology saying: "I sincerely apologise to GN'R,especially the band and crew, for stupid comments about upcoming tour, ...remember kids, dont drink n text! [sic]" In the lawsuit, Pitman is reportedly asking for a total of $163,000, including interest.
Guns N' Roses are reportedly raking in the big bucks on their Not In This Lifetime tour. The rockers have performed just 25 dates on their North American leg but it has already grossed $116.8m (£88m).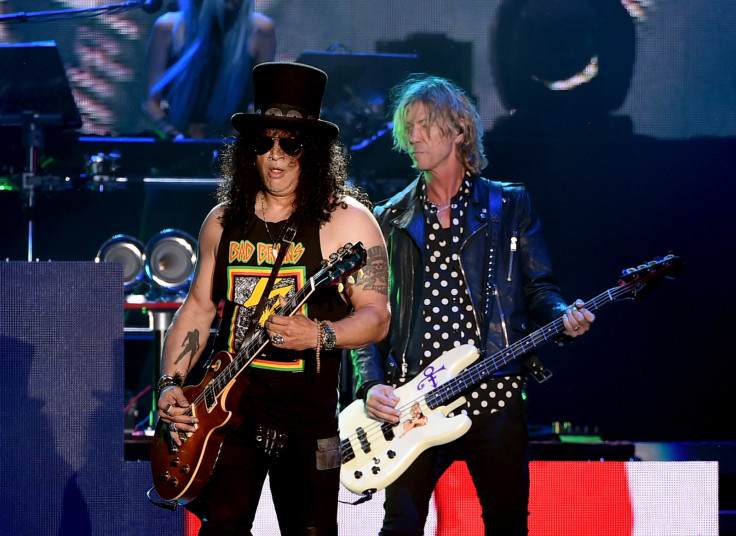 Axl Rose, Slash and Duff McKagan launched their reunion tour on 23 June in Detroit and have since visited a range of cities including Chicago, Philadelphia, Los Angeles, New Orleans, Houston and Toronto, Canada. According to Billboard, more than one-millions fans have flocked to stadiums to watch the legendary rockers perform over the leg's nine-week run.
The band's two shows at the MetLife Stadium in East Rutherford, New Jersey drew the biggest ticket sales so far to the tune of $11.6m. Performances at LA Dodger's Stadium, Chicago's Soldier Field and the Gillette Stadium in Foxborough collectively grossed $8m with two performances at each venue. The trio are currently enjoying a break before starting the South American leg in Lima, Peru on 27 October.