It has been more than two decades since Guns N' Roses iconic partnership of Axl Rose and Slash performed together, but the pair could reunite in 2016. Reports suggest the legendary rock band will headline Coachella music festival next year, with founding members Rose and Slash expected to join forces once again.
Several sources have reportedly told Billboard that Guns N' Roses will grace the main stage at the Coachella Music & Arts Festival taking place in Indio, California, in April 2016. Fans are in for a treat as it is claimed the band are in talks with promoters to embark on a 25-city stadium tour across North America, which could also see them become one of the first artists to play the new Las Vegas Arena.
According to the publication, Guns N' Roses could command a $3m (£2m) pay cheque per show, which may explain the hefty ticket price, which will allegedly sit between $250-275. However, demand will be undoubtedly high as Axl Rose and Slash have not shared the stage together since 17 July 1993, when the band performed at the River Plate Stadium in Buenos Aires, Argentina.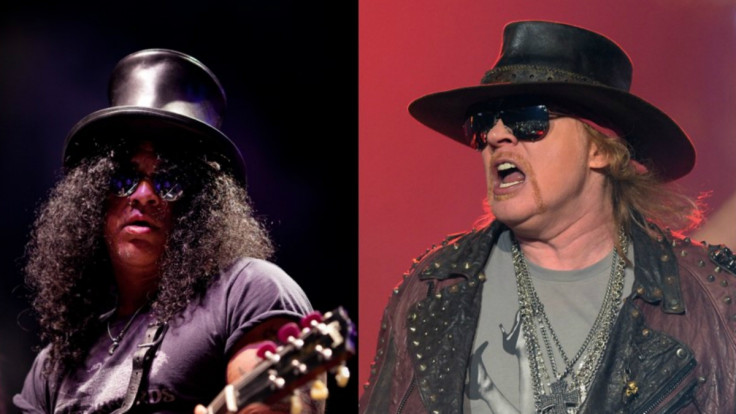 The current line-up consists of keyboardists Dizzy Reed and Chris Pitman, guitarist Richard Fortus, drummer Frank Ferrer and bassist Tommy Stinson. Axl Rose was the only founding member to be a part of the band's most recent tour, Appetite For Democracy, between 2012 and 2014 across South America and Las Vegas, grossing a healthy $15.2m in ticket sales.
Reports of a Guns N' Roses reunion surfaced earlier in December 2015 after their official website was updated with the band's original logo consisting of two silver revolver guns with red roses, while a photo of a live crowd was added to their Facebook page. Guns N' Roses have released six studio albums and are best known for singles such as Sweet Child O' Mine, Welcome To The Jungle and Paradise City.
Listen to Guns N' Roses' Sweet Child O' Mine: