Former Ukip parliamentary candidate Peter Bucklitsch has blamed the parents of Alyan Kurdi, the three-year-old boy who has become an iconic symbol of the refugee crisis, for their child's death.
In a tweet from his personal account, which has already been retweeted over 100 times, Bucklitsch called Kurdi's parent's "greedy" and said the three-year-old died because they wanted "the good life in Europe". Bucklitsch, who stood for UKIP in the last parliamentary election in Wimbledon where he polled third with 2,476 votes ended the tweet with "queue jumping costs".
Bucklitsch's misjudged comments have already provoked a strong reaction on Twitter where momentum has been gathering behind pro-refugee sentiment. The poignant images of Kurdi, who died with his mother and brother while trying to reach Europe, have galvanised support for refugees.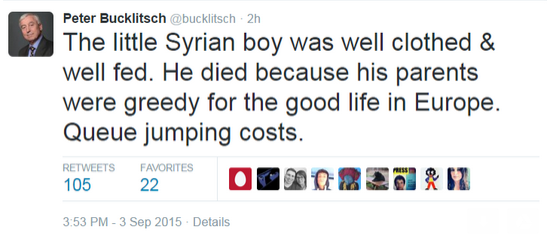 "Vile!! He died because his parents risked everything to get him to a safe place away from war. They paid a terrible price," one Twitter user wrote.
"Tell me about your time at the back of the queue," wrote another.
Bucklitsch did not issue an apology. Instead he tweeted: "Predictable unthinking outrage. Turkey is not a place where the family was in danger. Leaving that safe place put the family in peril." Following the backlash Bucklitsch deleted his twitter account.
Bucklitsch , and accountant and computer consultant, stood as a Liberal Democrat parliamentary candidate for South Thanet in 2010. His website as a UKIP candidate for the 2015 general election claims Bucklitsch left the Lib Dems over Nick Clegg's tuition fees U-Turn.
Aylan Kurdi died, along with his five-year-old brother Galip, his mother Rehan and 10 other refugees, when their boat capsized as they were trying to reach the Greek island of Kos. The family was fleeing Kobane in Syria, which Islamic State (Isis) has attacked repeatedly. Abdullah, the children's father, survived.
In a statement to IBTimes UK, Ukip said: "Peter Bucklitsch is not a candidate or officer of the Party, and his opinions on social media in no way represent the views of party". Peter Bucklitsch did not respond to requests for comment before the publication of this article.