Azealia Banks has taken her assault allegations against Russell Crowe from social media to the police. TMZ reports that the 212 rapper filed a battery report against the Oscar-winning actor after alleging that he "choked and spat" on her before using a racial slur at a dinner party in his hotel room.
Banks first made the claims in a Facebook post, which was later deleted. "Last night was one of the hardest nights of sleep I've had in a long time. The men in the room allowed it to happen. I feel terrible today." she wrote.
However, her version of events was disputed by sources who told TMZ that Banks −who was invited as the plus-one of Wu-Tang Clan rapper RZA− was the aggressor. They told the publication that after making fun of the Gladiator actor's choice of music and disrespecting his friends she threatened him with a glass bottle.
Eyewitnesses claim that Banks was "bear-hugged" out of the room by the Australian star's before calling security guards to remove her from the Beverly Hills hotel, and didn't believe his actions were out of line.
While Crowe has yet to issue a statement on the supposed incident, he did retweet TMZ's story which featured the headline: "Russell Crowe -- Tosses Azealia Banks From Suite ... Witnesses Say She Made Bloody Threat."
Insiders added that Banks decided to go to the police after Crowe refused to apologise for his part in the alleged incident.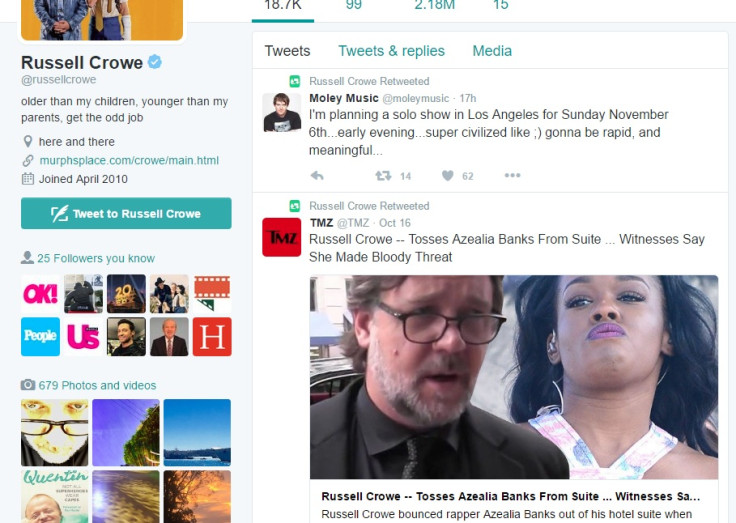 Her manager Raymani said that his client had been left shaken by the alleged incident. "Azealia is tremendously distraught and disheartened," he told E! News. "She is shell-shocked and will speak out on the incident once she has had time to process the brutality and abuse she was unjustly subjected to.'"
The 25-year-old vowed that the truth would be revealed in her now-deleted Facebook post. "The truth will be out on Wednesday," she told fans. " I am 100% innocent in this matter. No matter how you feel about me no person deserves to be handled that way. And I will not be threatened or chastised into keeping quiet.
Both stars have had their fair share of controversy. Banks is now an avid Facebook user after being banned from Twitter in May 2016 over racial and homophobic slurs aimed at pop star Zayn Malik. In September 2015 she was caught on camera screaming at an airline attendant and calling him a "f**king f*ggot" during an altercation on a Delta flight and she is currently under investigation by the LAPD over a fight with a security at Los Angeles club Break Room 86 in October.
Meanwhile, Crowe plead guilty to assault after throwing telephone at an employee of New York City's Mercer Hotel back in 2005.