If Corrie bosses are trying to stress out their loyal fans, then they're doing a mighty good job of it. Ken Barlow gave us all a fright on last night's episode (17 October) of Coronation Street when he fell to the floor after suffering a stroke – with many taking to Twitter to express their shock.
Fans were devastated to learn that the long-standing character may have died in the explosive episode. Ken's son, alcoholic former bookmaker Peter, returned to Weatherfield after a year-long absence and ruined his father's plans to leave the cobbles for a once in a lifetime trip to Europe, which was set to start in Italy.
Ken Barlow ended up trending on Twitter following the dramatic scenes, with one person writing: "Just seen Ken Barlow is trending, poor Ken he was heading off to Italy this week!" as another put, "I'm sure we're all worried about Ken Barlow. Perhaps the best thing to do in this situation is realise HE'S NOT REAL!!!"
While Ken and Peter's reunion should have been a welcome one, the latter confessed that he's penniless and has some injuries that suggest he was beaten up by a loan shark. Things quickly turn sour between the pair.
Being the naïve and soft father he is, Ken gave Peter some cash to tide him over – but viewers witnessed the dodgy character making a mystery phone call before creeping out of the house – insinuating that the money has not been put to good use.
When Ken quizzes his son about why he has been out, he tells him how disappointed he is in him before demanding the truth. Peter tells his father that he ruined his life, and Ken heads off to get his taxi to the airport but falls over and has a stroke.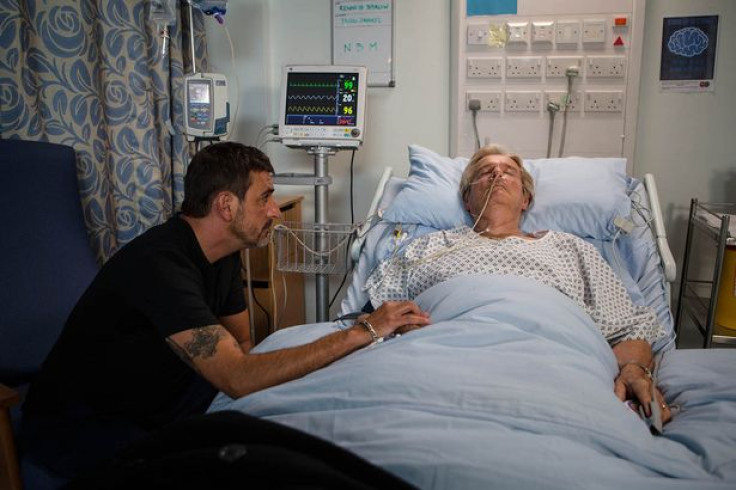 Bill Roache – who has played Ken for 56 years on the ITV soap since the very first episode on 9 December 1960 – recently admitted to being shocked when he was informed about the storyline. He confessed to being worried about his job – but was relieved by producer Kate Oates who told the veteran star that while the stroke was severe, he was not being killed off.
His illness will in fact become a central storyline and intends to bring the Barlow family back to the fore.
Roache, 84, said: "When I found out about the storyline, I didn't feel paranoid about my health, but I did feel paranoid about my job. The first thing I asked was 'do I get better?'" The Mirror reports.
The good news is that he does. And the actor believes that Ken could be around for a long while yet, joking: "How long do I think I could continue for? It would be good to be the first centenarian actor still in a soap."
Coronation Street continues tomorrow night at 7.30pm on ITV.