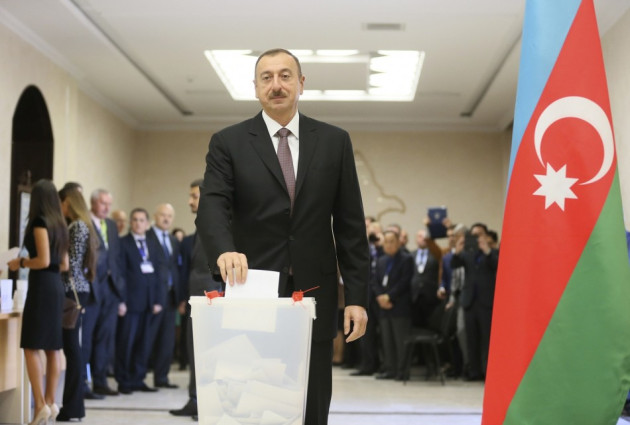 An independent Azerbaijani website has accused the government of rigging the country's presidential elections by publishing the results before the polls even opened.
An article dated 8 October, one day before polling began, claimed the official mobile app of Azerbaijan's Central Election Commission had already listed the results of the presidential elections.
The article, published on Meydan TV, claimed the results were leaked in a "major phone app failure."
The author asserted that incumbent Ilham Aliyev will be declared the winner with 72.76% of the vote, while rival Jamil Hasanli will finish with 7.4%.
With the first exit polls announcing a landslide victory for President Aliyev, the allegations appear to cast serious concerns over the elections.
Hasanli, who according to the exit polls has obtained only 8% of the vote, has already claimed his supporters cited numerous violations during the voting process. The 61-year-old historian is leading the first-ever coalition of major opposition movements in Azerbaijan.
In addition to proclaiming the result, Meydan TV - whose founder Emin Milli was arrested in 2009 for publishing a satirical video against Aliyev - provides information on how many people voted and names the electoral precincts.
The app developer, Vusal Isayev of the Happy Baku company, has demanded Meydan remove the article, claiming that the results were only a test and old information were posted.
However, he failed to explain why Hasanli, who is a new candidate for elections, was included.
Aliyev, who succeeded his father, Heydar in the post-Soviet nation, has been president since 2003. The country's constitution was changed in a 2009 referendum to allow him to run for a third term.
Human Rights Watch reported a government crackdown on opposition ahead of the elections, citing a "dramatic deterioration of the government's record on freedom of expression, assembly, and association".
An Azerbaijan-based human rights group said that 142 people are now being held on political grounds -- up from 60 in January.