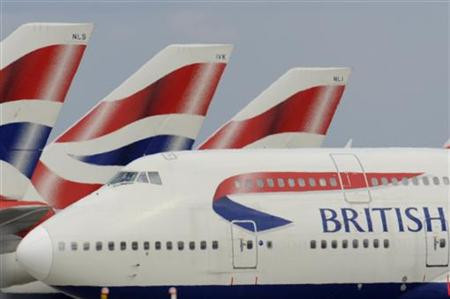 BAA passenger numbers have shown a gradual improvement year-on-year, as latest figures show a 1.7 percent fall on June 2009, compared with 22.7 percent disparity in April and 4.5 pct in May.
The gap in traffic emerged as icelandic volcano, Eyjafjallajökull erupted on 20 March and shutting down swarthes of airspace, reducing passenger numbers by a fifth. The volcano has since stopped, however, strike action in May and June have then hit numbers further with a fall of 4.5 pct in May and 1.7 pct in June.
However recent evidence appears to indicate British travellers wanting 'out' as peak season begins - a welcome boost for airlines which have taken a hammering in the markets due to ash cloud and strikes affecting numbers in recent times:
"BAA's June traffic figures reflect a good performance in a difficult market. The figures are led by the robustness of Heathrow which is performing better than its rival hubs in Amsterdam, Paris and Frankfurt." said John Strickland, Director of JLS Consulting, "Heathrow's largest operator, British Airways has had to compete aggressively for transfer traffic and this has helped significantly in compensating for weakness in the point to point market."
"The fortunes of other airports across the group are mixed - growing where airlines such as Ryanair have added capacity (Edinburgh) but declining where it has been withdrawn such as easyJet/Ryanair cuts at Stansted." he added.
Strike action at Heathrow is currently postponed as talks are ongoing between British Airways and Unite - the Union, whilst shares in British Airways, easyJet and other airlines decreased on the news though Ryanair gained.
EASYJET REACHING 'FAIR VALUE'
The news follows a note from Goldman Sachs from back in April which predicted 'better long haul' demand for carriers such as British Airways offering a 'buy' rating on the 'conviction' of its merger with Iberia.
"We reiterate Iberia (Conviction Buy) and BA (Buy) as our top picks. We do not see any significant obstacles to the merger being finalized and view Iberia as the cheaper way to invest in the combined story." said Hugo Scott-Gall.
"We prefer Ryanair (Buy) on valuation grounds to easyJet (down to Neutral) after the latter's sizeable outperformance so far this year." he added.
Hugo advised 'buy' ratings on all UK airlines apart from easyJet which had reached 'fair value' after being on its 'buy' list for the last year.
"Since adding to our Buy List on March 24, 2009, the shares are up 74.3 pct," added Hugo on 23 April "easyJet has performed well through the recession and its strong unit revenue performance is testimony to the quality of its network."
Shares in easyJet fell in today's trading.
"Positive surprises could come from the cost side, and we may know more once we have heard from the new management team - CEO Carloyn McCall (ex Guardian Media Group) and CFO Chris Kennedy (ex EMI Music). " said Hugo Scott-Gall, analyst with GS.