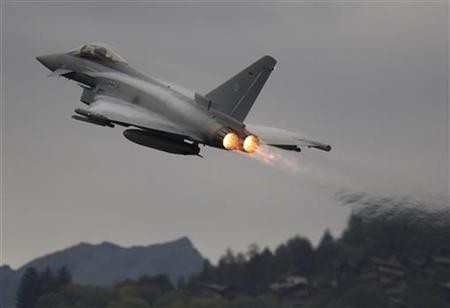 Having amassed more than £40bn in revenues in an arms deal with Saudi Arabia, defence contractor BAE Systems is looking at further growth prospects in the Middle East with David Cameron aiding as promoter of its aircraft.
The company is close to bagging an order for 12 Typhoon jets from Oman by the end of 2012 and is awaiting further aircraft deals with Saudi Arabia, the UAE and Qatar, totalling billions of pounds.
It intends to renegotiate a contract worth about £600m for 72 Typhoons with Saudi Arabia and return the proceeds to shareholders, who are disappointed with the company's failed plan for merger with Franco-German company EADS.
Earlier, BAE's plans for merger with the owner of Airbus collapsed due to the intervention of the German government. The failure has led to BAE's largest shareholder asking for the resignation of the company's chairman, Dick Olver.
On his three-day visit to the Middle East, Cameron will promote the new Eurofighter Typhoon to the United Arab Emirates, Saudi Arabia and Oman. He will try to sell as many as 100 jets in the countries, in separate deals totalling about £6bn.
Cameron will promote 60 jets to UAE, while Saudi Arabia is expected to place a significant order for more jets on top of the 72 jets they had already purchased in the controversial al-Yamamah arms deal.
In the £43bn deal with Saudi Arabia, Britain sold more than 200 aircraft in three phases spanning more than two decades. In the third tranche of the deal, which was agreed after the end of the Serious Fraud Office investigation, BAE sold 72 Typhoons to the country. The SFO investigation into the controversial deal ended abruptly under government orders in 2006.
Manufactured in Britain, Typhoon is BAE's fighter jet developed in partnership with EADS and Finmeccanica. The European consortium previously lost a 126-fighter deal with India to French rival Dassault.