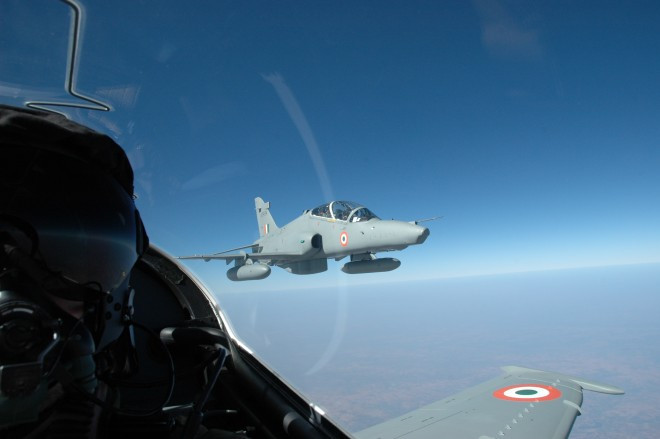 Shares in BAE Systems and Rolls-Royce were down in afternoon trading on the FTSE 100 after the companies signed a £700 million fighter jet deal and ahead of half year results due tomorrow.
The deal comes as Prime Minister David Cameron visits India to promote trade between Britain and India.
Under the agreement, which was made with the state run Hindustan Aeronautics Ltd, BAE Systems and Rolls Royce will provide 57 Hawk pilot trainers for India's air force and navy. BAE Systems will pocket £500 million from the deal while the remaining £200 million will go to aircraft engine manufacturer Rolls-Royce.
Dick Olver, Chairman of BAE, is one of many businessmen visiting India with Mr Cameron. He said of the deal, "BAE Systems is extremely pleased to have secured this follow-on order for Hawk. It reflects the long-standing successful relationship between BAE Systems and HAL and the importance of solid government support."
Both BAE Systems and Rolls-Royce will announce their half year results tomorrow and both companies are expected to produce good, if unexciting figures.
Keith Bowman, analyst at Hargreaves Lansdown said of BAE, "Uncertainty surrounding government spending budgets, particularly in the group's two core markets of the US (53 percent of 09 sales) and UK (18 percent of 09 sales), continues to overshadow. As for the coming half year results, earnings are expected to remain broadly flat over last year, aided by growth outside of Land & Armaments and the group's ongoing share buy-back programme.
"Market consensus currently denotes a buy ahead of the announcement, with optimistic analysts highlighting an attractive valuation and significant ongoing military operations and tensions."
On Rolls-Royce he said, "Events at the Farnborough air show might suggest an underlining of management optimism going forward, although this is not expected to shine through in the actual figures. A broadly flat outcome for profits is forecast over the first half. Market consensus currently denotes a hold prior to the results."
By 14:20 shares in BAE Systems were down 0.72 per cent to 316.30 pence per share while Rolls-Royce shares declined 1.43 per cent to 585.00 pence per share.