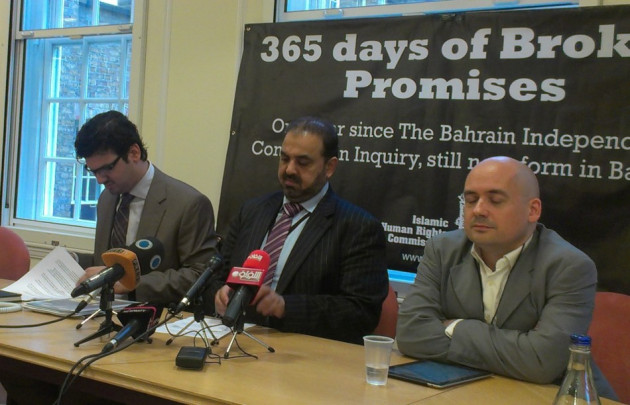 British police have been instructed to put pressure on Bahraini opposition MPs in London by using Schedule 7 of the Terrorism Act to stop, search, question and examine suspects at airports, a leading Muslim human rights activist has claimed.
Massoud Shadjareh, chair of the Islamic Human Rights Commission, said that Scotland Yard was "already actively engaged" in holding Bahraini human rights activists and ex-lawmakers from al-Wefaq, the main Shia opposition party, at British airports for hours.
He quoted the British ambassador in Bahrain, Iain Lindsay, as saying in a recent meeting with expatriates that British police were "informed to cooperate in putting pressure on al-Wefaq politicians coming to the UK" to curb "the volcanic Bahraini opposition" in London.
Schedule 7 of the act empowers police to stop and question travellers at UK ports and airports, without needing reasonable suspicion that a suspect is engaged in acts of terrorism. A suspect may be detained for up to nine hours.
"I find it disturbing that legitimate opposition members are being stopped and searched and followed and being watched [by British police]," said Lord Nazir Ahmed. "I urge everyone to bring evidences to this case."
In response, ambassador Lindsay told IBTimes UK that he "categorically did not make any such comment at any stage, either publicly or privately".
Scotland Yard has refused to comment on the ambassador's statement.
Another London-based Bahraini political activist, Saeed al-Shehabi, criticised the UK government for failing to speak out in favour of the country's human rights reforms.
"The UK government shares part of the responsibility for supporting a regime of torture," he said.
Amnesty International has released a critical report on the tiny Gulf island kingdom, saying repression is "spiralling" out of control. It condemned the government in Manama for "flagrant disregard for the recommendations of the Bahrain Independent Commission of Inquiry (BICI)", set up during the 2011 uprising.
Both the US and UK welcomed the BICI, which was accepted by the Bahraini government but never fully implemented.
Amnesty argued that the human rights situation in Bahrain had deteriorated "markedly".
"There is no state in Bahrain," said Shehabi. "The government will never implement the BICI recommendations because for them it would mean raising the white flag."
One of the main points of the BICI was the accountability of the state over torture - a recommendation that the government simply ignored, according to Clive Baldwin, a senior legal adviser at Human Rights Watch.
"There was not a single investigation on that," he said. "Instead, the government revoked the citizenship of 31 opposition figures and banned all demonstrations and gatherings in the country. The situation in Bahrain is much worse than [it was] one year ago."