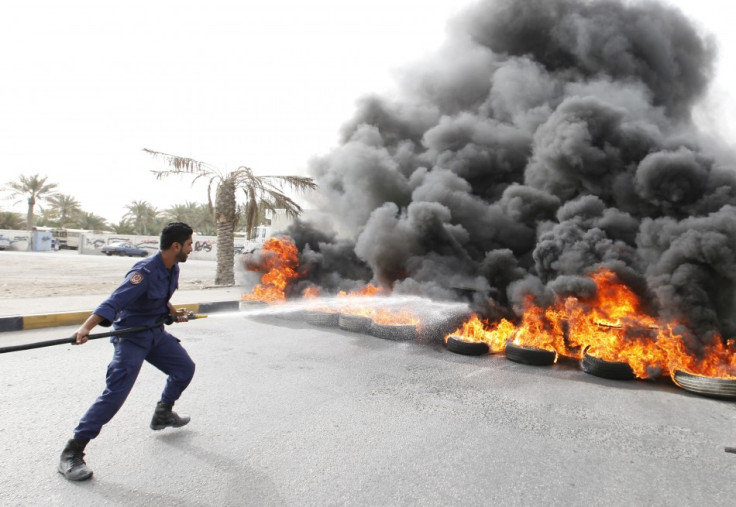 With just hours to go for the Formula 1 Grand Prix, tension mounted in Manama even as the Bahrain government expressed confidence that the event would be a smooth affair.
Though the protesters are calling for cancellation of the F1 race, the Bahraini authorities are determined to go ahead with the international event.
As the clock ticked away for the opening of the race, the Bahrain King issued a statement declaring his commitment to reform in the country.
The statement, by King Hamad bin Isa al Khalifa, said that he wanted to make clear his "personal commitment to reform and reconciliation in our great country".
"The door is always open for sincere dialogue amongst all our people," the statement read.
The race is due to begin at 3:00 pm local time (12:00 GMT) on Sunday.
Tension has mounted in the area as the body of a Shia man was found on the rooftop of a building in the village of Diraz, west of Manama, on Saturday.
The protesters believe that anti-government demonstrator Salah Abbas Habib, might have died in Saturday's protests.
The streets looked like a battle zone on Saturday as the police resorted to firing of tear gas shells to disperse a crowd of masked protesters who started throwing petrol bombs at the police.
The protesters are demanding an end to the discrimination of the majority Shia Muslim community at the hands of the Sunni royal family, the al-Khalifa dynasty.
The violent protests have drawn a lot of international attention to the mega event.
British Foreign Secretary William Hague spoke to his Bahraini counterpart to "call for restraint" in dealing with protesters, the BBC reported.
But the Bahraini authorities appeared firm in dealing with the protesters and ensure that the F1 event passed off smoothly.
"Cancelling the Grand Prix just empowers extremists, and insisted that holding the race would build bridges across communities," the BBC quoted Bahrain's Crown Prince Salman bin Hamad al-Khalifa as saying.
The FIA, the motorsport body, also decided to go ahead with the event after the Bahrain government's assurances about fool-proof security for the event.
"On rational facts, it was decided there was no reason to change our mind," the BBC quoted Jean Todt, President of the FIA, as saying.
In 2011, the Bahrain Grand Prix had to be cancelled because of pro-democracy protests in which 35 people lost their lives.
As many as 25 people are estimated to have been killed in the latest protests.