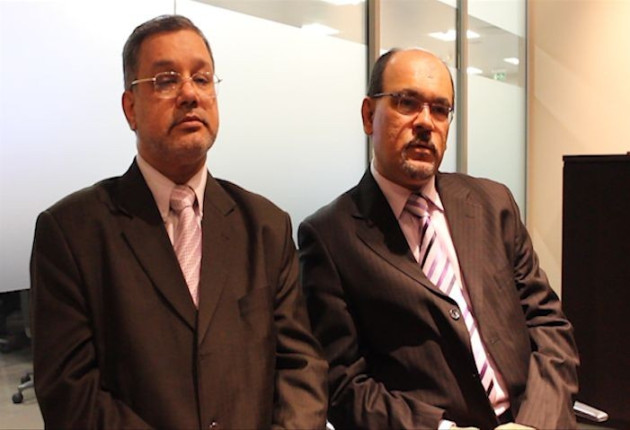 Imagine you are in a foreign country and suddenly receive a midnight call from your wife, weeping, who tells you the TV has announced you have been stripped of your nationality.
That is what happened to two Bahraini brothers, Jawad and Jalal Fairooz, who were previously members of their country's main opposition party, al-Wefaq .
They were in London when Bahrain's interior ministry announced that 31 opposition figures were poised to have their nationality removed and become stateless people, citing a 1963 law that permitted the "re-evaluation of nationality" and claiming that the decision was "in conformity with the kingdom's commitments under international law". The brothers were on the list.
No wonder they have been left in despair after this Orwellian nightmare unfolded to a soundtrack of bureaucratic, senseless jargon.
"Now I'm stateless all of a sudden and the country where I was born is taking me out," said Jalal, his voice broken. "Where should I go if I am stateless?"
A lecturer and a business instructor, Jalal was in London conducting a part-time course. He served as an MP in the Bahraini parliament from 2006-10, was vice-chairman on a government-related committee and was elected internationally by 1,500 MPs to be vice-chair of the international democracy and human rights committee in Geneva.
"I was so surprised when I heard the news: I've never been interrogated, never had anyone telling me that I broke any laws. I was actually doing laws, reforms for the people," he said.
Jawad, himself a former MP who resigned during his second term in April 2011 to protest against the government's crackdown on mainly peaceful, pro-democracy protests, recounted the details of the night he discovered his identity had been taken.
"I got a midnight call from my wife while I was here in London," he said. "She was crying. She said on TV they announced my name. It was a shock - so sudden - I cannot find any logic behind it."
Iranian influence?
The British Foreign Office, the US State Department and Amnesty International have criticised the Bahrain government move. "It's a frightening, chilling decision which we want to see rescinded. Making people effectively stateless is prohibited under international law," said the State Department.
Al-Wefaq, of which Jawad is a board member, has often been accused of being sponsored directly by Tehran, boosting unrest in Bahrain to turn the kingdom into an Iranian puppet state.
But the brothers dismissed the allegations, saying the party is moderate and pushing for peaceful reforms instead.
"Al Wefaq is a nationalistic party, we have stood up even against some of the statements from Iran," said Jalal. "We are Arabist, pro-Bahrain, we want to see Bahrain as a secular state. There is no evidence that Iran has anything to do with the uprising at all, and that was confirmed by the BICI [Bahrain Independent Commission of Inquiry] report."
Jawad was arrested in 2011 and held for three months. He claimed he was tortured.
"The charges were related to the time I was member of parliament," he said, his voice trembling. "I received a definitive 13-month prison sentence the day after they stripped me of my nationality.
"In short the Bahraini government removed our nationality because we are standing for the demands of the people to have a series of reforms," he said, his fierce look broken with a nervous smile. "We are not [seeking to change] the regime; we want to establish a series of reforms through a serious dialogue."
After a quick web trawl, Jawal discovered that Bahraini authorities had deleted his parliamentary records on the official archive. Like Big Brother's Thought Police in 1984, the course of history had been changed, erasing a man's contribution to the politics of his country.
Constitutional monarchy
Bahrain, an island kingdom in the Persian Gulf off the coast of Saudi Arabia, is ruled by Sunni monarchy. The majority Shia population has for decades felt disfranchised and forced to the margins of political life.
The government, meanwhile, depicts reform protests as Shia-led and based on sectarian demands.
"People are asking for a constitutional monarchy and that the prime minister, who has been in power for 42 years - when Obama was eight years old - to go away," Jalal said.
The way forward for the two stateless brothers is still shrouded in doubt and anxiety.
"Now if I go to Bahrain my passport will be taken away, my identity will be taken, they will put me in jail," said Jalal. "Even if they free me, I won't be able to live, go to hospital, open a bank account, and practise my job as a consultant and lecturer.
"There is no way I can support my family," he continued. "This is a type of pressure the government wants to put on the opposition. They want us to be a model for everyone."