Security forces in Bahrain have fired teargas and birdshot at protesters demanding democratic reforms in the tiny Gulf kingdom.
The Bahrain Youth Society for Human Rights (BYSHR) reported injured demonstrators in the villages of Karzakan and Demistan.
In Shakhoora, west of the capital of Manama, a standoff between police and 300 protesters on either side of a barbed wire fence erupted in violence, according to Reuters.
Similar clashes occurred in other villages, including Karana. At least five women were arrested in Seef, according to BYSHR, including Sadiqa al-Basri, who was recently released from prison after serving a two-year sentence for allegedly insulting a police officer in April 2011.
Acting president of the Bahrain Centre for Human Rights (BCHR), Maryam al-Khawaja, reported ,two ,arrests in Sitra.
The BCHR said: "Much of the country's economic centres have been voluntarily closed by shop owners and many streets have been blocked by police using razor wire and police vehicles.
"A large police force has camped around several embassies where protests were expected and large amounts of teargas have been used to disperse anyone gathering on the streets."
The Al Wefaq opposition group said that 60 protest rallies were held across Bahrain.
Many of them were organised by the country's Tamarod (rebel) group to mark the anniversary of Britain's withdrawal from the tiny Gulf kingdom in 1971 and Bahrain's independence. Tamarod is a loose opposition group of activists who push for "free and democratic Bahrain" through mass demonstrations.
Prime Minister Sheikh Khalifa bin Salman al-Khalifa had warned that troops would "forcefully confront" protests, according to Bahrain News Agency.
"It will punish [those] who stand behind them in line with the recommendations of the Bahrain national council [parliament], which represents the will of the people of Bahrain," he said.
The pro-government Bahrain News Agency said that it was "business as usual" in the kingdom despite the protests.
"Bahrainis and expatriates reported to work on Wednesday just like any other day, defying calls by radical opposition groups of road blockades and attack on properties," it said.
The Interior Ministry said that an Asian worker was injured by a firebomb thrown by protesters in "an act of terrorism".
London protest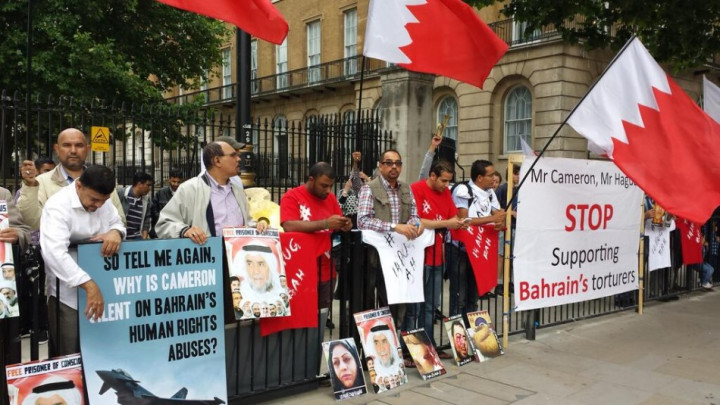 Outside the kingdom, a small but vocal protest rally was organised by the Bahraini diaspora in London who marched from the Bahraini embassy in Belgrave Square to Downing Street. About 60 protesters gathered around the square holding the Bahraini flag, singing and chanting against the al-Khalifa dynasty - and were joined for a time by kilt-wearing Scotland fans in the capital for the big match.
As they approached Buckingham Palace, protesters started chanting "We want freedom", "Down down al-Khalifa" and "Democracy, democracy". Some held banners with pictures pro-democracy activists in jail or victims of torture by Bahraini authorities.
Outside Downing Street, one demonstrator shouted: "David Cameron, how could you justify support for regime in Bahrain?"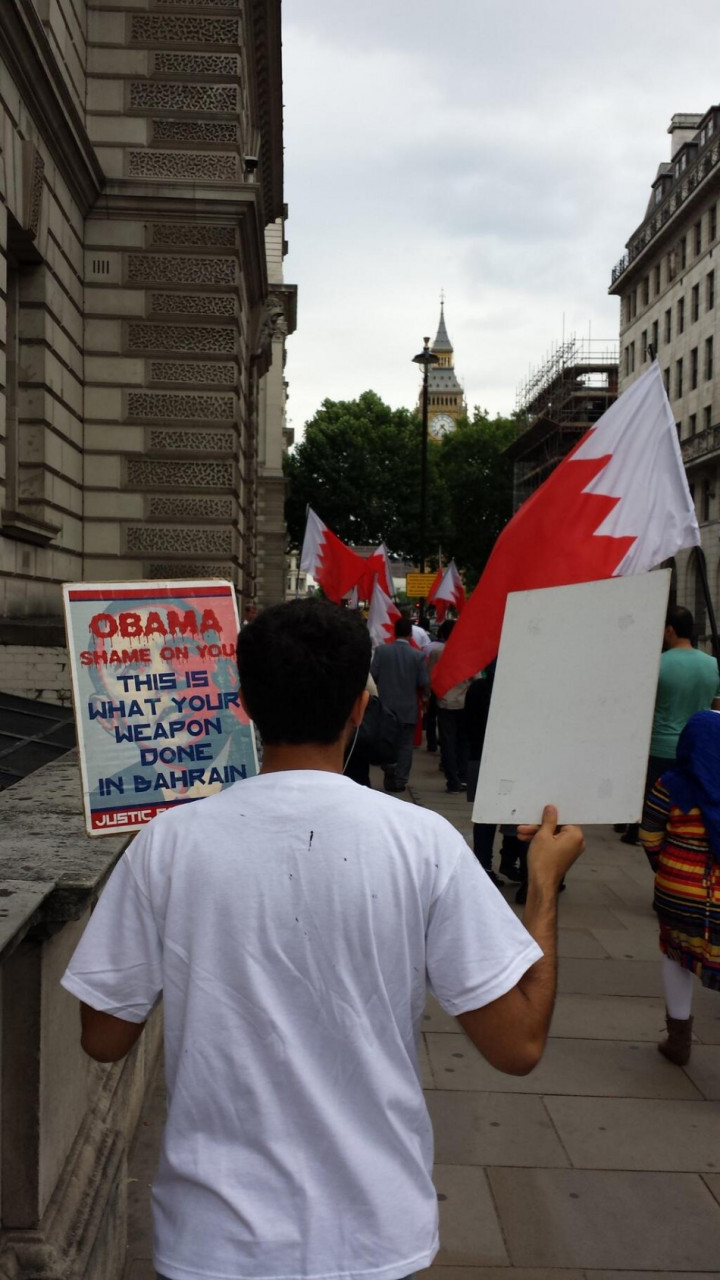 "I'm here because I'm absolutely disgusted and ashamed that our government is still arming the regime which is turning the weapons against its own people," said Anne-Marie O'Reilly, a member of the Campaign Against Arms Trade (CAAT), a UK-based NGO working to end the international arms trade.
She said she was horrified at reports that Britain was in talks to sell 12 Typhoon fighter jets to Bahrain in a £1bn deal which was one of the main agenda items in a Downing Street meeting between Cameron and Khalifa.
"Instead of challenging Bahrain on human rights record our government is supporting it and it's a disgrace," O'Reilly said.
During the Downing Street sit-in, a group of Scottish football fan, in London for the match with England, started cheering at the protesters, shaking hands and waving signs of approvals.