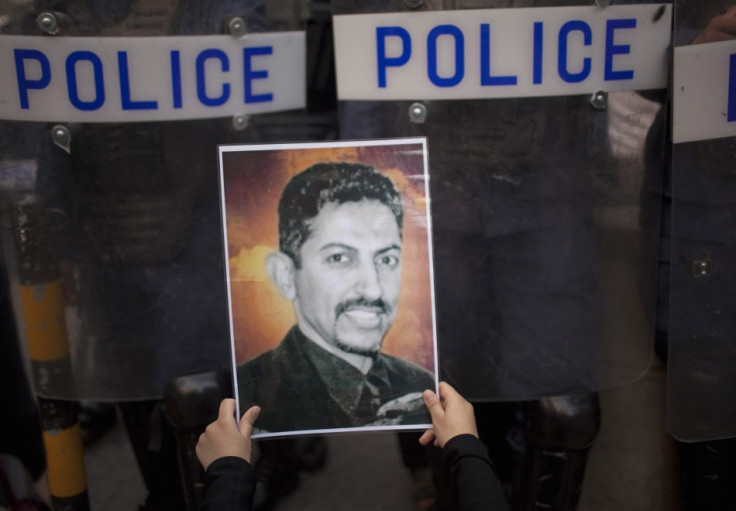 The Bahraini hunger striker Abdulhadi al-Khawaja has appeared in court in the capital, Manama, in a wheelchair, attending trial for his involvement in pro-democracy protests last year.
The activist, who is being retried along with 20 opposition activists, reportedly looked "frail and weak" after more than 100 days on hunger strike.
The defendants were convicted throughout 2011 by the National Safety Council, a military tribunal, of plotting to overthrow the state. But in April the Court of Cassation, the highest court in Bahrain, ordered a retrial.
Khawaja was too ill to attend the previous hearing on 8 May.
His wife, Khadija al-Mousawi, tweeted that Khawaja was taken from his hospital room to the court in a wheelchair by a doctor and two nurses.
"The continuation of my arrest is a crime," Khawaja told the court, according to AFP. "Stop this sham trial.
"There is no legal excuse for my continued detention.
"For more than 100 days I have been on hunger strike and am ready to sacrifice my life to demand freedom," he said, adding he had been "force-fed" in prison.
Mousawi said her husband also narrated the dramatic events following his detention in April 2011.
"There was a moment of silence when he spoke about the psychological torture when they lied to him about arresting [their daughter] Zainab... torturing, raping Zainab and moving her to a jail in Saudi Arabia. This must have been harder than the torture itself," she wrote on the social networking site.
Khawaja was seized in a late night raid at his daughter's house. According to his family, he was also beaten by police and not allowed to take his medication with him.
The National Safety Council accused Khawaja and 20 other activists of "setting up terror groups to topple the royal regime and change the constitution". He was sentenced to life imprisonment based on a confession that he said was extracted from him under duress.
Khawaja claimed he and members of his family were sexually abused by military forces while they were in hospital. He spent seven days there blindfolded and handcuffed.
He went on hunger strike in prison with those arrested alongside him to protest against their convictions.
Denmark asked for him to be released on the grounds that he has Danish citizenship, but the Supreme Judicial Council rejected the request.