Bangladesh: Lax Safety Measures Blamed for Tazreen Factory Fire Tragedy
Unsafe buildings and deadly working conditions the real cause of deaths of 111 workers in Bangladesh garment factory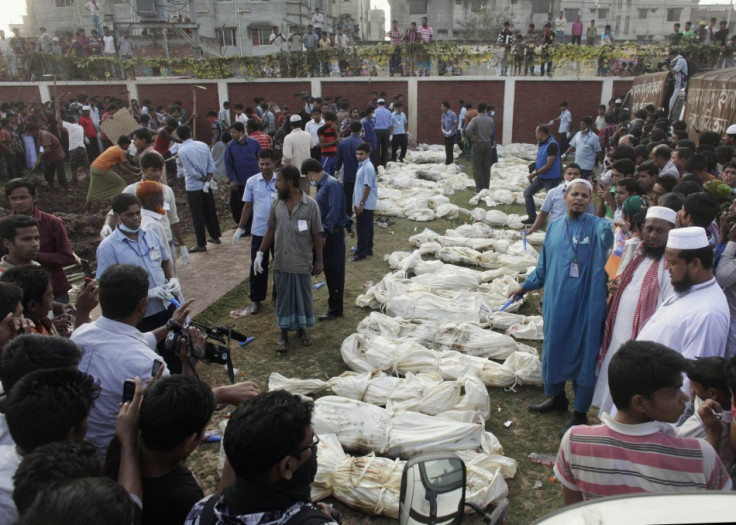 The death toll of 111 in the fire at the Tazreen Fashions factory in Bangladesh would have been significantly lower if safety measures were upheld by retail companies in the country, according to a leading labour rights NGO.
Garment factories in Bangladesh, the world's biggest exporter of clothing after China, are often located in unsafe buildings that were originally constructed for residential or commercial purposes.
"The electrical wiring is set up for residential buildings, not for heavy industry with hundreds, sometimes thousands, of machines," Liana Foxvog, of the International Labor Rights Forum (ILRF), told IBTimes UK.
"The majority of factory fires in Bangladesh are caused by electrical circuit shortage. The chaos that follows the fire is caused by the fact that workers don't receive proper fire emergency plans, and exit doors and windows are usually blocked. They are not properly trained."
The ILRF has set up a comprehensive fire safety programme to alleviate the decades-old deadly working conditions of workers at supplier factories in Bangladesh.
According to ILRF research, since 2005 more than 700 garment workers have died as a result of unsafe buildings in Bangladesh.
The programme, which has already been accepted by major buyers such as PVH Corp (Tommy Hilfiger, Calvin Klein) and Tchibo, features independent inspections by trained fire safety experts, public reporting, mandatory repairs and renovations, a central role for workers and unions in oversight and implementation, and supplier contracts with sufficient financing and adequate pricing.
"It's a binding contract between brands and workers, different from business-as-usual measures," said Foxvog. "It's legally binding and implies a role for workers and brands."
Safety Gap?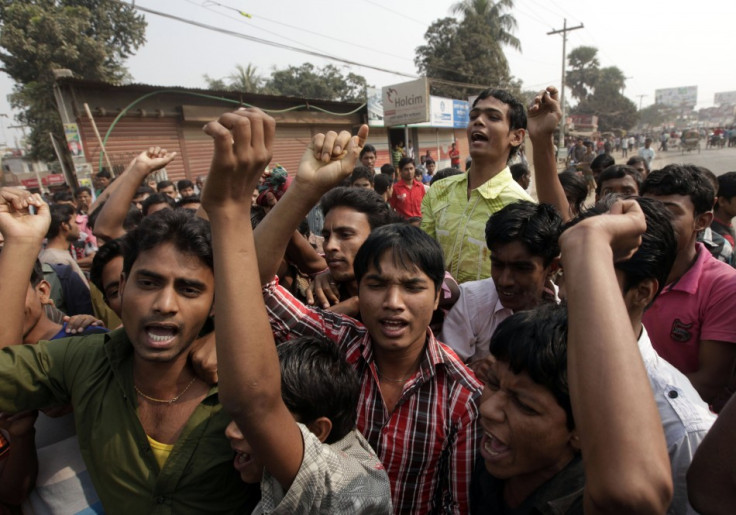 Garment employees in Bangladesh may work up to 60 hours a week and be forced to work overtime. Many earn just $36 a month.
"It's around $1 per day to live and many support their families with that wage," said Foxvog. "Our analysis of the food prices in the country, considering inflation, is that $36 is barely enough to put food on the table for one person."
The fire safety programme has not been accepted by Gap, a major company in Bangladesh. After a factory fire in December 2010, in which 29 workers at That's It Sportswear died because the stairway doors on the upper floors of the building were locked, the ILRF negotiated a deal with Gap to adopt the comprehensive and independent fire safety programme.
But Gap said it adopt its own self-regulatory approach - a concept that does not impress labour activists.
"It is the same discredited approach that has failed to prevent hundreds more apparel workers from dying in preventable factory fires in Bangladesh in recent years," said the ILRF.
"We hope the tragic fire at Tazreen will serve as an urgent call to action for all major brands that rely on Bangladesh's low wages to make a profit," said Judy Gearhart, executive director at ILRF.
"Their voluntary and confidential monitoring programmes have failed; now it is time to come together and make a contractual commitment to workers and to involve workers and their organisations in the solution."
In October, Gap announced a "significant initiative to improve building and fire safety standards across the company's approved third-party garment manufacturing factories in Bangladesh".
"Gap Inc is deeply committed to Bangladesh. We share the same goal with other stakeholders to make tangible change as quickly as possible," said Bobbi Silten, senior vice-president of global responsibility for Gap.
The programme includes a worker support package of $2m to ensure that factory employees displaced from work because of fire safety improvements are paid for workdays missed.
The Bangladesh government blamed the Tazreen Fashions factory fire on sabotage after it emerged that two other facilities outside Dhaka were also targeted by arsonists. But that should not divert attention from the general safety issue in Bangladeshi factories, said Foxvog.
"The report from the safety inspector said that he believes the cause was an electric shortage, and that's what I tend to believe," she said.
"Putting the question of the cause aside, if the apparel company had upheld comprehensive safety measures, for example staircase accessibility and a proper training programme, the magnitude of the tragedy would have been significantly lower."
The factory had no emergency exits and workers who could not get out were burned alive. Others jumped to their deaths to escape flames.
Three supervisors were also accused of stopping workers from leaving the building, with the excuse that the fire alarm was just a drill and they had nothing to worry about.
"Even if it was a fire drill, the purpose is usually to practise in case of a real fire, not to keep people at their place," said Foxvog
© Copyright IBTimes 2023. All rights reserved.