Bank of America ended an eight-year investment in China Construction Bank by selling its entire stake in China's second largest lender for $1.47bn.
BofA sold two billion Hong Kong-listed shares of CCB, or 1% of all outstanding shares, for HK$5.70 per share - 3.9% less than the closing price on 3 September. It earned a paper profit exceeding five times the original cost, reported Reuters.
The transaction is expected to generate a pretax gain of approximately $750m (£481m , €569m) in the third quarter of 2013, according to a BofA statement.
This gain could be partially offset by negative fair value option (FVO) adjustments and debit valuation adjustments (DVA) if the company's credit spreads, which have improved significantly during the third quarter of 2013, remain at current levels when measured on 30 September.
BofA began selling CCB stock August 2011 onwards and the lender has raked in $16.37bn from three sales in the past, estimated Reuters.
Bank of America's stock finished about 1% higher to $14.25 on Tuesday in New York, valuing the firm at $153.09bn.
CCB's stock ended 1% lower to HK$5.87 on Wednesday in Hong Kong, valuing the firm at HK$1.47trn.
"The Bank of America-CCB relationship continues to bring substantial benefits to each company," said Bank of America Chief Executive Officer Brian Moynihan.
"We have built a strategic partnership based on shared operational expertise, and our clients in China and Asia recognize Bank of America's ongoing association with one of the world's leading financial institutions."
BofA is the second American bank to sell out of a Chinese bank. Earlier in the year, rival Goldman Sachs exited its seven-year investment in Industrial and Commercial Bank of China (ICBC), the world's top bank by tier 1 capital. Goldman raked in $10.1bn from the sale after having invested $2.58bn in 2006.
Western financial institutions began investing in Chinese banks about a decade ago in a bid to make inroads into a market with 1.3 billion people. However, stiff competition from Chinese lenders prevented American and European firms from expanding in the world's second-largest economy, and they exited their investments.
In addition, several banks including Citigroup, UBS and Royal Bank of Scotland have been forced to sell their stakes in Chinese banks partly because Basel III norms that come into effect in 2014 will make owning minority stakes in banks more expensive.
However, banks such as HSBC and Spain's BBVA continue to remain invested in Chinese lenders. HSBC holds a 19.9% stake in Bank of Communications while BBVA holds a 15% stake in China Citic Bank.
Rising Bad Loans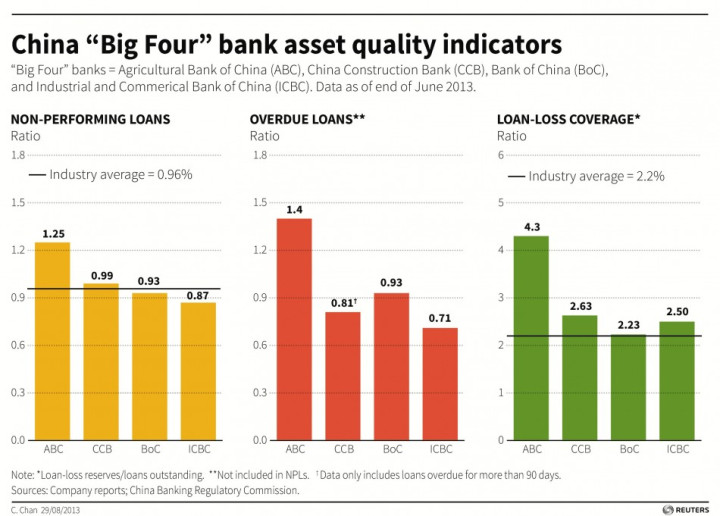 China's banking system has been under stress lately as slowing economic growth in recent months threatens to increase the number of bad loans.
CCB is the largest lender to home buyers and Chairman Wang Hongzhang warned last month the bank could come under pressure from an increase in bad loans in the second half of the year. "Though our non-performing loan ratio has been held below 1%, we still face big pressure from rising bad loans," Wang said.
There has been "a big rise in overdue loans and that is a hidden crisis for NPLs," he added.
Retail brokerage Merrill Lynch originally bought a 9.9% stake in CCB for $3bn in 2005, ahead of the Chinese lender's Hong Kong IPO. BofA assumed the stake when it acquired Merrill in September 2008.