Bank of England governor Mervyn King and deputy governor Paul Tucker grilled by Treasury select committee
Lawmakers question King, Tucker and Lord Turner's role and management in Libor rigging scandal
Ex-Barclays COO Jerry Del Missier says BoE's communication with bank was considered rate-setting instruction
1155 BST: As the TSC moves on to questions regarding financial system stability, we will end the live blog here and digest the responses on Barclays and Libor rigging.
Thank you to all those who have joined us.
1151 BST: Donald Kohn takes the floor.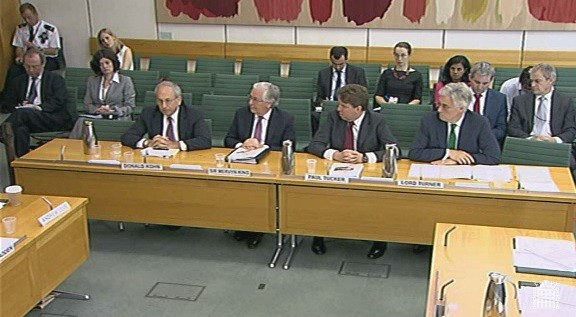 1148 BST: King successfully passes the baton on any needling or difficult regulatory forbearance questions by MP John Thurso to FSA's Turner.
1146 BST: King: "There is good and bad forbearance. Bad forbearance is when banks know they have made bad losses and don't recognise the losses by not demanding repayment for loans or putting it in their profit and loss accounts, especially if it leads the bank to have a stronger balance sheet or better health than it should have."
1146 BST: TSC hearing resumes
1136 BST: Chairman Andrew Tyrie calls a five-minute break.
1134 BST: Fisher: "Our main focus will be to aggregate credit growth. We are doing what we can to monitor separate categories of business. We will be asking and seeing where the banks are lending money."
1131 BST: Tucker: "BoE very concerned over the credibility of Libor."
1127 BST: Under the Freedom of Information Act - check out the emails between Barclays and the Bank of England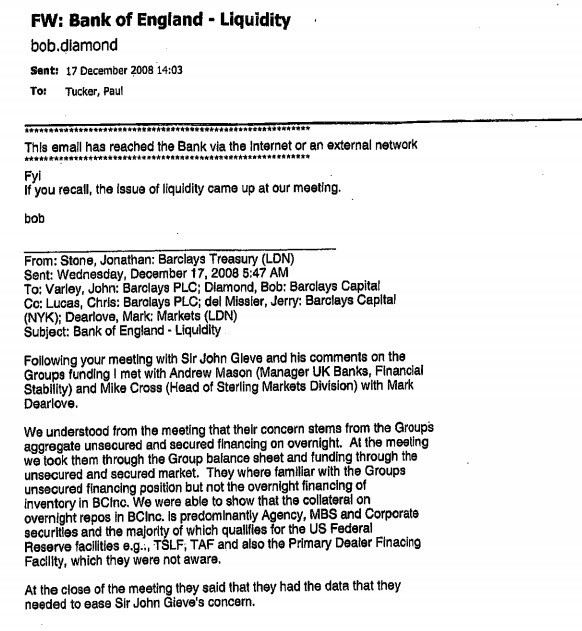 1123 BST: MP John Mann accuses King of being in denial about the rigging of Libor. "Why are you still in denial over this and wouldn't it help the situation that you and the FSA failed to spot it because you were all sidetracked by the other problems during the credit crisis?"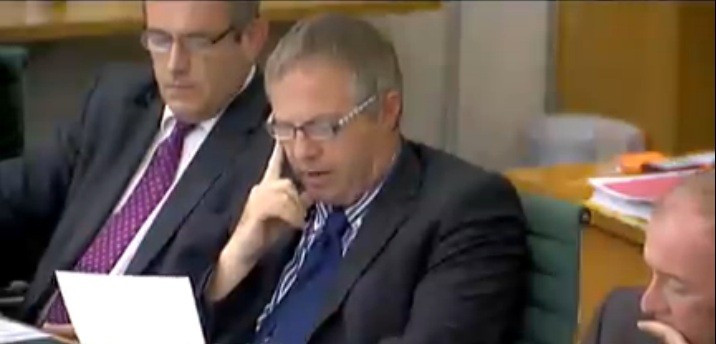 King says that there was no evidence of wrongdoing - again - and that it was more to do with how to crunch the numbers in an illiquid market at the time.
1116 BST: Tucker defends himself over Diamond call
Tucker: "Mark Dearlove would come to meetings and the team would talk to him. I wanted a call with Diamond or Varley, it didn't matter which one it was.
"In May 2008, we wanted the banks to [participate] in the review at a more senior level and we decided to call the big sterling banks - we wanted that to be on the treasurer level to participate in the review."
MP Mann: "Did you discuss Libor with Mark Dearlove on several occasions?"
Tucker: "Funding conditions yes, money market conditions, yes."
1108 BST: King: "Some people clearly knew and many others didn't [on Libor rigging]. It took three years by three bodies of detailed investigation to get to the bottom of that and the main part was how the people involved showed themselves via email."
King says that unless you monitor all emails every week for fraud, you just can't find out about similar situations.
1107 BST: King starts blaming others about how, in a way, it's the problems with buyers of contracts linked to Libor, for being burned.
1105 BST: King: "When the BBA were nudged in May 2008, they did their best" on whether the BBA did a good job.
1104 BST: King "The point I made to Agius, as honourable as his resignation was, [was that] the culture is not set by the chairman at the time. I felt it was made clear by Agius that he will have the task of getting through this period. In the heat of the moment the honourable thing [was] to resign but me and Turner had one more task before he leaves."
1103 BST: MPs ask why Agius and Rake escape scrutiny.
1059 BST: King: "We are not responsible for the regulation of markets and prudential supervision and enforcement and compliance"
1058 BST: King: "A system based on self-reporting is one that can be manipulated by collusion."
1053 BST: King: "New York Fed is a regulatory body and BoE is not. All we could have done with regulatory documents from New York is to pass it on. All we did was to tell the New York Fed to how best to interact with the BBA. I said I think they are wholly inadequate to I spoke to Paul Tucker about how to best "
1052 BST: King: "We were concerned that everyone had doubts about Libor but there was no evidence of wrong-doing. Paul Tucker had several meetings with BBA's Angela Knight about this."
1050 BST: Barclays stocks peaking ....

1049 BST: King: "The problem was only solved when bank recapitalisation happened in UK and US. Libor was a thermometer about the health of the banks at the time."
1048 BST: King on Libor in 2008: "The is the temparature of a patient that is sick. There are only certain measures to bring this down. There were times in September 2007 and October 2008 that banks were absolutely not lending to each other and rates were virtually non-existent."
1047 BST: King: "At the Basel meeting, everyone was concerned over the behaviour of Libor. Particular concern over dollar Libor. Libor was like the health of a patient and because it was moving up and down [rapidly] we were all thinking about how to put policies in place to stabilise this."
1046 BST: Tyrie asks King about a staff note in reaction to the New York Fed letter in 2008
1045 BST: Turner: "The public was justified in their reaction. It takes a time to think these issues through."
1042 BST: Turner: "Perception is important here. I am not going to be defensive on that. I think there are some circumstances to urge a board over scale of public reaction and in the honest truth, extreme degree of focus and issue of Libor - having read final notice a week ago, even compared with what I expected, this much bigger issue than I thought."
1041 BST: King starts getting visibly agitated with the TSC needling him on when he was aware of of "wrong-doing".
King says the New York Fed letter did not have any evidence of wrongdoing. The letter, in fact he says, is just a regular course of action for a self-reporting sector.
1040 BST: King: "When you ever have a system that relies on self-reporting, you have to have the controls in place to show this reporting. Doesn't mean that there is instantly an implication of wrongdoing."
1037 BST: BoE defends itself
Tucker: "We were worried about the eroding credibility."
King: "I was informed of the allegations of Barclays between Tucker and Diamond in 2010, first alleged wrongdoing was two weeks ago. Any self reporting system, had to report. Doesn't mean there was immediately meant any wrong-doing. At no stage did he [Tucker] or New York Fed say that there were any wrongdoing."
1035 BST: Tucker is up
Tucker: "we were focused more on Sterling Libor and then there was emergent concern over dollar Libor and the loss of credibility in terms of dishonesty."
1024 BST: Mervyn King starts being questioned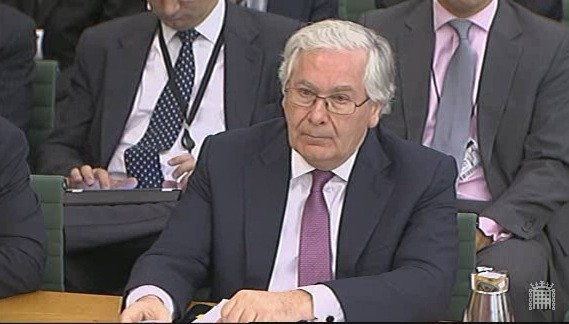 "I made it very clear that I was not speaking for the government, although I did inform the Chancellor that I was having the meeting and I was not speaking for the FSA as a regulator. I wanted the chairman and senior independent director to be very aware of the concerns with the regulator's raised. Adair Turner and Andrew bailey had shared it with me over many months about concerns over Barclays. If you read the letter of April 2008 [dear marcus letter] it could be clear that there was a very powerful and strong letter."
1017 BST: Turner: "If Bob Diamond had stayed and giving the extensiveness of the calls for his resignations and from politicians and press, I strongly expect that would have been to disadvantage of the shareholders as well and there was certainly in shareholder attitude as the issues and debates developed over the week.
1014 BST: Turner continues to defend the Bank of England's role and the governor's (Mervyn King) role in speaking with Barclays about concerns over Bob Diamond's appointment as CEO.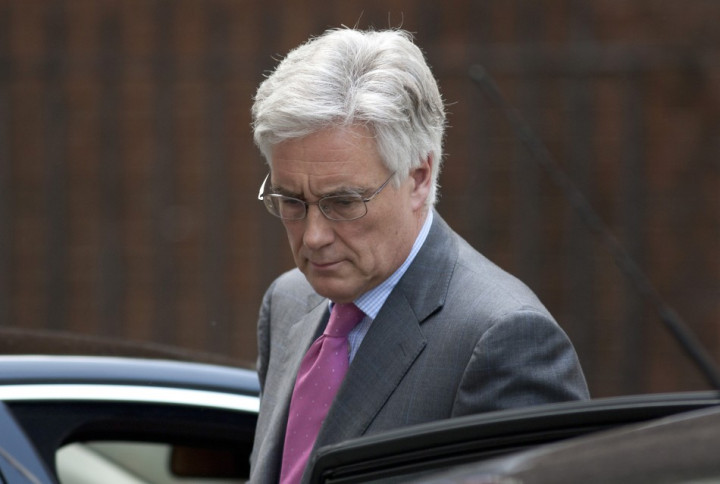 1011 BST: Why did BoE Governor get involved, asks MP Tyrie
Turner: "Governor has always had regular meetings with chairmen at banks. We had decided the appropriate line at the time. I thought it was appropriate to see Agius and put a message. I think it is appropriate that we are also going to bring prudential regulation to the banks next year and confidence in the banks is appropriate for the regulatory stance. "
1009 BST: Lord Turner says "discussed with Andrew Bailey (FSA) that I would be very surprised that if the net effect was not Diamond resigning" [after the Libor rigging scandal]
1008 BST: Lord Turner on 'Dear Marcus' Letter
"It was very clear that we were talking about the appointment about Bob Diamond's appointment and whether he was the right person to be the person to lead the brand and whether the external world would be able to accept him as leader"
1006 BST: TSC Chairman Andrew Tyrie kicks off with asking FSA's Turner to carry on "where they left off when the division bells rang"
Lord Turner on the 'Dear Marcus' letter:
"The discussion with Agius was about Bob Diamond appointment."
"We have not found anything against Bob Diamond and we are not giving any direction that he is not fit and proper for this job. We made it clear about where HE [Agius] thought he was capable of leading the substantive change in the bank."
1005 BST: King and Co. sit down for the hearing.
0954 BST: King, Tucker, Lord Turner and others are set to start the TSC hearing shortly.
0930 BST: UK INFLATION DATA OUT
- The rate of inflation as measured by the Consumer Prices Index (CPI) fell to 2.4% in June, from 2.8% in May
- The third month in a row that the annual rate has fallen
- Takes CPI to its lowest since November 2009.
- Retail Prices Index (RPI), which includes housing costs, fell to 2.8% from 3.1%.
- The rate of inflation is slowing due to lower food, fuel and clothing prices.
0925 BST: And of course King .....
Tucker has taken most of the beatings over the last month, as he was found to be conversing directly with Diamond in the October 2008 call.
However, revelations over the last week about U.S. Treasury Secretary Timothy Geithner getting involved and talking directly to King in 2008 - and around the time Tucker talked to Diamond - will provide Libor questioning fodder: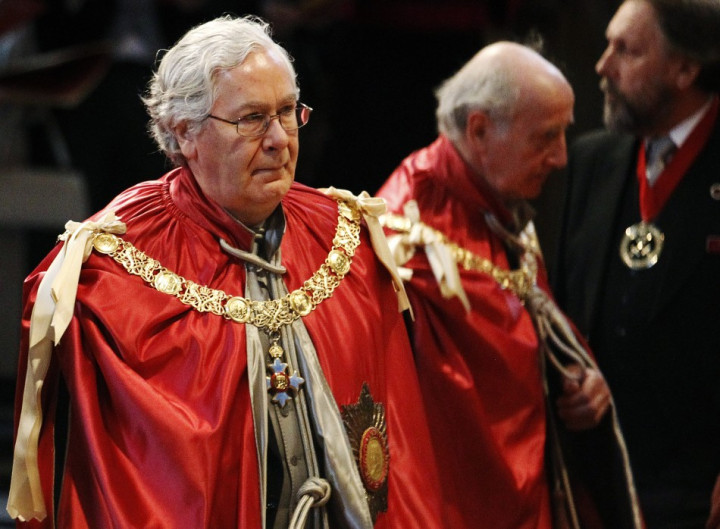 "Geithner, who was the head of the New York Federal Reserve Bank at the time, sent a private email to Bank Governor Mervyn King recommending six ways to enhance the credibility of the London interbank offered rate.

More than a dozen banks are under investigation by authorities in Europe, Japan and the United States over suspected rigging of the global borrowing cost benchmark, which is used in contracts worth trillions of dollars globally.
The June 1, 2008, email, first reported by the Washington Post, included a two-page memo dated May 27 of that year that suggested establishing best practices for calculating Libor, "including procedures designed to prevent accidental or deliberate misreporting."
0853 BST: Tucker 'on trial' again?
It will be really surprising if the TSC doesn't go straight for the jugular when questioning Tucker today. I hope he's prepped because Del Missier's hearing did not bode well for the Bank of England and specifically Tucker.
Here are the highlights from Tucker's testimony last week, which of course will be a linchpin for marrying up fresh statements from Del Missier yesterday: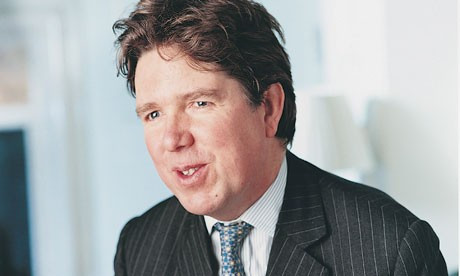 Highlights from Tucker's testimony: Libor Scandal is a "cesspit"
Tucker used his hearing to systematically dispute pretty much most of Diamond's reasoning for the 29 October 2008 call.
He said that Diamond's memo "gives the wrong impression" and that although the call did take place, it was not about Libor.
He reasoned that the call was more to do with warnings that Barclays looked desperate for funding in the money-markets.
"This isn't about Libor. It's about the conduct of their Treasury desk in the money markets apparently paying higher rates of interest. Money markets desks can send out distress flags."
To make matters worse, MPs gave Tucker room to defend Diamond over possible misinterpretation but he was unshakeable in his defence:
"I think it was... I don't think Bob Diamond did misunderstand. It was not remotely in my mind during this conversation that I could be misinterpreted by Bob Diamond or anybody else. I'm not here to defend Mr Diamond's record."
However Tucker, like Diamond, hammered home that the Libor rigging scandal overall, was something that surprised him:
"[We were in] deep shock. Such collusion would never have occurred to me until the revelations of the last few weeks. We didn't see ourselves as being responsible for its effectiveness whatsoever."
"We used it as an indicator of the things that I have described. We didn't take any responsibility for Libor, we were not a regulatory body. I can't be confident of anything after hearing about this cesspit."
0843 BST: Banking stocks mixed ...

0840 BST: Just a reminder ......
While we're all waiting for Libor scandal-related questions, the BoE are in front of the TSC, following the report and meeting on financial stability.
Here are the recorded highlights: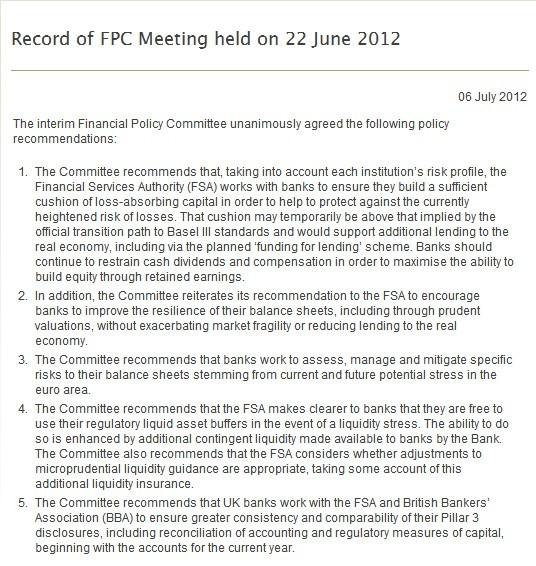 0820 BST: Mervyn King and his role in the Barclays' Libor rigging scandal?
It will be interesting whether MPs will take this prime opportunity to ask King where he stands and how intricate his role was during the Barclays' Libor rigging scandal since 2008.
This is our take so far (Click on the titles for the full story):
0811 BST: Bank of England's role during the period Barclays' fixed Libor rates
The BoE should be expecting some questions that target how they saw their role during the period that Barclays' lowered their rates.
Fresh from the yesterday's TSC hearing with Jerry Del Missier, the ex-Barclays' COO was adamant that the call between Deputy Governor of BoE, Paul Tucker and ex-Barclays' CEO Bob Diamond was about lowering the rates as the BoE was "under pressure from Whitehall officials".
Referring to the file note he was copied in on October 30, one day after Tucker and Diamond had a conversation about the level at which Barclays' Libor submissions stood at, Del Missier said:
"I need to put this into a little bit of context. At the time, the crisis that had been going on for some time had entered severe escalation because of the collapse of Lehman Brothers and this led to unprecedented government intervention. The government was injecting money into financial institutions whether they wanted it or not. [Diamond] said that he had a conversation with the BoE [and that] the BoE was getting pressure from Whitehall over [the] health of Barclays because of [high] Libor rates and that we should get Libor rates down."
Not only did the hearing reveal that Del Missier did indeed take the memo as an "instruction" to lower rates, his statement also conflicted with what Tucker said at his hearing last week.
He implicated Diamond by saying the [October 29, 2008] call:
"[wasn't] about Libor. It's about the conduct of their Treasury desk in the money markets apparently paying higher rates of interest. Money markets desks can send out distress flags."
He added that "the memo gives the wrong impression."
"I think it was... I don't think Bob Diamond did misunderstand. It was not remotely in my mind during this conversation that I could be misinterpreted by Bob Diamond or anybody else. I'm not here to defend Mr Diamond's record."
0805 BST: So who's up in front of the TSC and why?
Today is meant to have the following BoE senior officials testify in front of the TSC to talk about "the interim Financial Policy Committee's assessment of the outlook for the stability and resilience of the financial sector and the policy actions it advises to reduce and mitigate risks to stability":
Sir Mervyn King, Governor of the Bank of England
Paul Tucker, Deputy Governor of the Bank of England
Lord Turner, Member of the interim Financial Policy Committee
Donald Kohn, Member of the interim Financial Policy Committee
Paul Fisher, Executive Director, Markets, Bank of England
However, the focus will be more on whether MPs will take the opportunity to ask questions over the Bank of England's role in during the period Barclays' was found guilty of fixing Libor rates.
0800 BST: Welcome to the Live Blog
Good morning and welcome to a special live blog on Bank of England facing the Treasury Select Committee.
Lianna Brinded, senior business reporter at IBTimes UK, will be blogging in the run-up to and during the testimony.