The mural Slave Labour, which shows a young boy hunched over a sewing machine making Union Jack bunting, was gouged out of a wall in Wood Green, north London last weekend.
The artwork by elusive guerrilla artist Banksy, which was removed from the side of a Poundland shop over the weekend of 16-17 February, could reach more than £450,000 when it is auctioned on Saturday 23 February in a Miami auction house.
Auction website owner Frederic Thut told The Sun the work was being sold by a "well-known collector" but refused to name the person.
He said he was offered it along with Banksy's Wet Dog Bethlehem 2007, adding: "The collector signed a contract saying everything was above board. If he has lied to us it is important to know. But I don't think he lies to us."
Fine Art Auctions (FAA) featured the art work on the front page of their website ahead of their Modern, Contemporary and Street Art sale. They expect Slave Labour to fetch between £328,063 and £459,288 at auction.
A rat holding up a sign saying: "Why?" has been stencilled next to the empty space where the mural once stood, with some speculating it could be the work of Banksy himself.
The disappearance of the Banksy artwork prompted Haringey Council to launch a campaign to bring it back to the UK. The council has called on the Arts Council and Culture Secretary Maria Miller to intervene. So far however, they have not succeeded in halting the auction.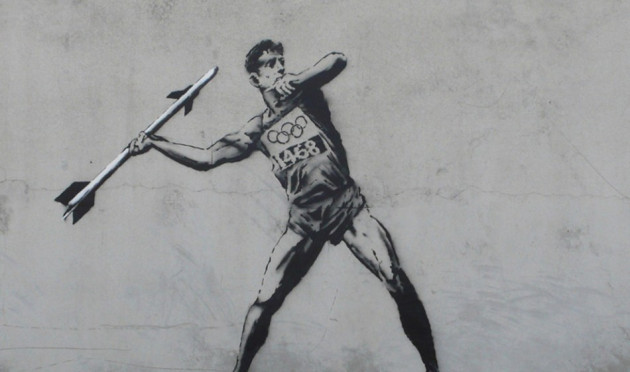 Councillor Alan Strickland said: "The community feels that this artwork was given to it for free, and that it should be kept in Haringey where it belongs, not sold for a fast buck.
"This is an area that was rocked by riots less than a year before this mural was painted, and for many in the community the painting has become a real symbol of local pride."
The council is investigating how the removal of the mural occurred.
Banksy's images - including those of a flower-throwing rioter and kissing policemen - are famous the world over.
Relatively little is known about the enigmatic artist, who goes to great lengths to keep his identity a secret and has never spoken publicly.
There have been a handful of interviews with Banksy and his website contains a few questions and answers, but the Bristol-born artist prefers to remain anonymous.
In 2011, Banksy's documentary Exit Through The Gift Shop was nominated for an Oscar but the artist failed to attend, having had his request to turn up wearing a disguise refused.
Banksy has a net worth of £13 million, with celebrity buyers including pop star Christina Aguilera, who bought a Banksy for £25,000.