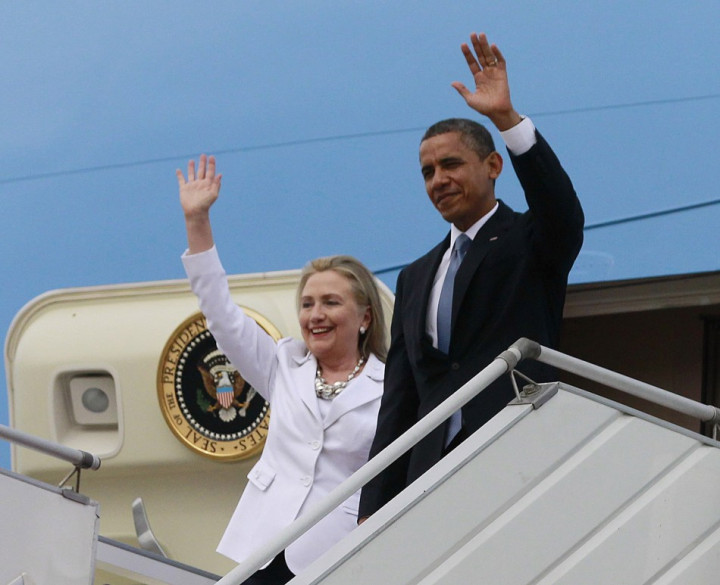 Barack Obama has become the first sitting US president to visit Myanmar, in a trip designed to encourage the reforms being implemented by the country's current president Thein Sein.
Obama has touched down in Rangoon with US Secretary of State Hillary Clinton, and the pair are due to meet President Sein later today. Hundreds lined the streets around Yangon International Airport to greet their American visitors.
Obama is expected to pledge $170m (£107m) in aid to assist the reform process in Myanmar, formerly known as Burma, which held its first democratic elections for 20 years in 2010.
However many critics believe Obama's visit comes too soon, as the country remains blighted by sectarian conflict and scores of political prisoners remain behind bars.
During his six-hour stay in Rangoon, the commercial capital of Myanmar, Obama will meet a clutch of leading figures including pro-democracy leader Aung San Suu Kyi, and deliver a speech at the city's university. However he will not be visiting the country's new capital, Nay Pyi Taw.
Obama reached Yangon from Thailand, the first stop on his visit to Asia - his first foreign tour since re-election.
"This is no accident. As I've said many times, the United States is and always will be a Pacific nation," said Obama during a news conference with Thai Prime Minister Yingluck Shinawatra.
"As the fastest growing region in the world, the Asia-Pacific will shape so much of our security and prosperity in the century ahead, and it is critical to creating jobs and opportunity for the American people."
He also met the Thai King, Bhumibol Adulyadej, who has been in a hospital since September 2009, receiving treatment for an illness.
Calling himself a "Pacific president", Obama said 60 percent of America's naval force will be based in the region by 2020, an indication of America's intention to counter the increasing regional clout of China.