Is Barack Obama's Half-Brother George a Secret Republican? [VIDEO]
George Obama lives in Nairobi slum and believes in self-help and respect for one's parents - core values of the American right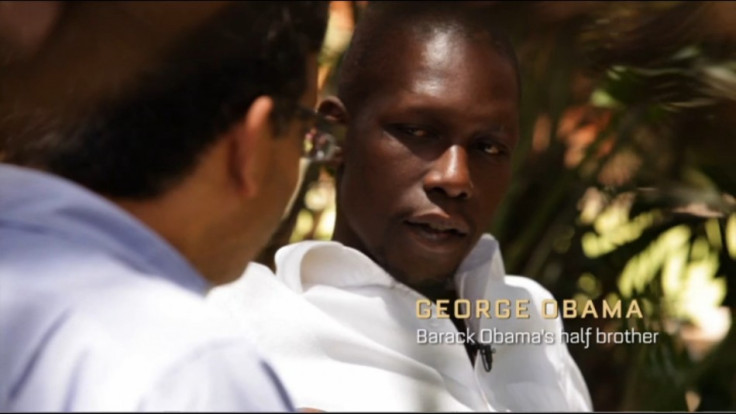 In the documentary "2016: Obama's America," based on the book "The Roots of Obama's Rage" by conservative writer Dinesh D'Souza, George Obama appears for the first time in public and talks about his half-brother.
Barack Obama's half-brother, who lives in poverty in a hut in Nairobi, Kenya, has refused to criticise the US president for lack of financial support, according to an exclusive interview. The film has an anti-Obama agenda but the 30-year-old is full of praise for his "half-white" brother.
The Kenyan, who lives in what has been described as a shack "like something out of Slumdog Millionaire", recalls when he was five-year-old and met Barack briefly.
"I was just surprised - he is some half-white guy," George said in a clip from the documentary.
He refuses to be drawn into criticism of the Democrat president. Asked if he felt rejected by Obama, who never offered him financial support, George was philisophical.
"I think he has a family of his own," Obama said. "He's supposed to help his family.
"I'm part of his family, but I'm over-age, so I help myself. He's got other issues to deal with. He's taking care of the world, so he's taking care of me."
George also talked about his father, Barack Obama Sr, who had several children with his four wives.
"He was really educated," George said. "My mum was disappointed in me because I didn't finish my schooling. I really did let her down, I let my father down because he was an intellectual guy."
Despite his refusal to incriminate Obama, strategists for Mitt Romney might sense a "wag the dog" moment in George's emergence from the shadows of the president's past. George's self-help, stand-on-your-own-two-feet philosophy and obvious respect for his parents' wishes tick two of the most important boxes of social conservatism.
Indeed, in his interviews with D'Souza he even goes as far to find favour with the white colonialism of Kenya and favourably compares the economic advances of South Africa under apartheid with the failed policies of African nationalists.
At one point in the interview, D'Souza joked that the US elected the wrong Obama president - although he had obviously temporarily forgotten the "Birther" movement, which sought to discredit President Obama by questioning his American origins.
"George doesn't go along with the worship of the father and he is politically incorrect on a lot of topics. And he's particularly interesting because he lives in rubble on a few dollars a day while his powerful, multimillionaire brother doesn't lift a finger to help him," D'Souza told the Hollywood Reporter.
"George is the rebel in Obama's family. He's the black sheep."
In 2009, George was arrested in Nairobi for alleged possession of one marijuana joint. It is not known whether he inhaled.
"2016: Obama's America" opens in Houston on July 13.
© Copyright IBTimes 2023. All rights reserved.