Barack Obama Sworn in For Second Term as US President [VIDEO + PHOTOS]
Beyoncé and Kelly Clarkson among performers at Washington ceremony as Obama delivers inaugural address to nation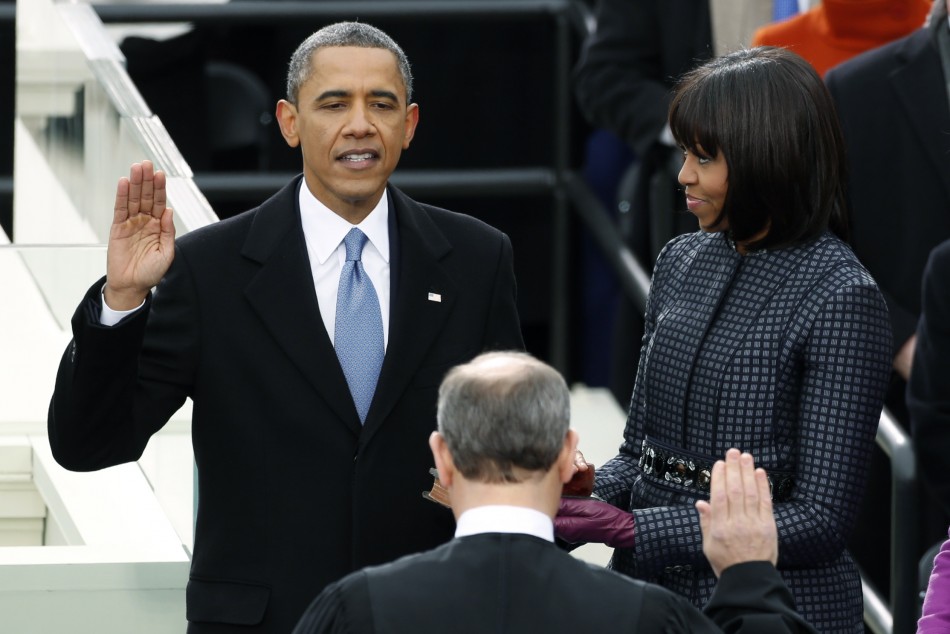 Barack Obama has been ceremonially sworn in to office for his second term as US president in front of hundreds of thousands of spectators in Washington DC.
Obama, the 44<sup>th president of the United States and the 17<sup>th to reach a second term, was sworn in by Chief Justice John Roberts.
The official oath-taking was a small ceremony at the White House on 20 January before the much bigger public affair. Vice-president Joe Biden also publicly took the oath.
During his inaugural address to hundreds of thousands of supporters, Obama declared "America's possibilities are limitless" but also said the US would not fully realise its potential "until our gay brothers and sisters are treated like anyone else under the law".
Obama told the crowd: "This generation of Americans has been tested by crises that steeled our resolve and proved our resilience. A decade of war is now ending. An economic recovery has begun.
"America's possibilities are limitless, for we possess all the qualities that this world without boundaries demands: youth and drive; diversity and openness; an endless capacity for risk and a gift for reinvention.
"We are made for this moment, and we will seize it - so long as we seize it together. "
Equality is star that guides us
Obama was also the first president to mention the historic Stonewall gay rights riots during the inaugural speech, mentioning them in the same breath as key civil rights movements by Afro-Americans and women.
He said: "We, the people, declare today that the most evident of truths - that all of us are created equal - is the star that guides us still; just as it guided our forebears through Seneca Falls, and Selma, and Stonewall
"It is now our generation's task to carry on what those pioneers began. For our journey is not complete until our wives, our mothers, and daughters can earn a living equal to their efforts.
"Our journey is not complete until our gay brothers and sisters are treated like anyone else under the law - for if we are truly created equal, then surely the love we commit to one another must be equal as well."
It did not all go smoothly for Obama though as he appeared to stumble over the word "states" during the swearing-in, and instead referred to the country as the United State before recovering himself.
It is estimated that about 700,000 people flocked to Washington to witness the ceremony - down from the 1.8 million who saw his first inauguration when he was historically sworn in as the US' first black president.
Former US presidents Bill Clinton and Jimmy Carter were also in attendance.
There were also performances from Beyoncé, who sang the US National Anthem, and Kelly Clarkson who sang My Country 'Tis of Thee.
© Copyright IBTimes 2023. All rights reserved.