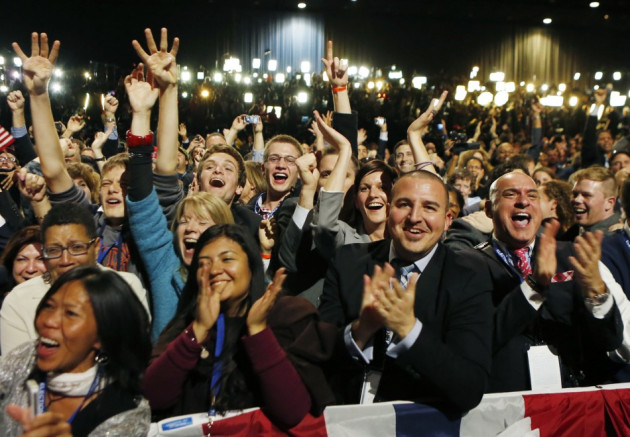 Last night's presidential election was every bit as compelling as the forecasters predicted. Early results suggested a tight contest, with Romney pulling ahead in the initial standings before Obama began to make up ground. His victory was eventually declared at just after 4am GMT, setting the stage for riotous celebrations across the country.
IB Times now looks back at the key moments from last night, with thanks to our roving reporters Shane, Gianluca and Umberto who provided blow-by-blow coverage throughout the evening.
00:03 GMT Romney makes a strong start, with exit polls revealing that Indiana has been called for the Republican Party. Romney goes on to take a 24-3 lead in the electoral college with victory in West Virginia.
Having earlier revealed that he has written his victory speech, Romney's confidence appears justified at this stage.
01:02 Obama begins his comeback. CNN predicts the President will take eight northern and eastern states, including Massachusetts - Romney's backyard.
02:54 CNN's forecast proves accurate, and Obama begins to close in on his Republican foe. The president wins Pennsylvania, Michigan, Minnesota and New Hampshire - the latter a crucial swing state.
02:58 Obama takes the lead for the first time, nudging ahead with 172 electoral college votes to 163.
03:13 Reports suggest Obama will carry Ohio and Florida. If these reports prove accurate, Obama is almost certain to win, given the importance of the two states.
04:03 Obama begins to forge ahead, claiming California, Washington and Hawaii. As predicted, the coastal states are siding with Obama, and the incumbent leader now has a lead of 232 votes to 203 in the electoral college.
04:12 CNN reports that Obama has won the crucial battleground state of Iowa. Its six electoral college votes push him close to victory.
04:15 FOX NEWS CALLS OHIO FOR OBAMA. OBAMA WINS THE ELECTION, AND WILL BE PRESIDENT OF THE UNITED STATES ONCE AGAIN.
4:50 With victory in Colorado and Nevada, Obama now holds 290 electoral college votes against Romney's 203. Now it is only a matter of time until Romney concedes.
5:50 After a surprising delay, Romney calls Obama to concedes, and gives a magnanimous speech to his supporters. He tells his audience that "I ran for election because I'm concerned about America" and that, while the election may be over, "our principles endure."
06:36 Obama arrives on stage for his victory speech. He tells his audience that "we are an American family, and we rise and fall together as one nation and as one people. For the United States of America, the best is yet to come."
08:00 GMT David Cameron, the British prime minister, offers his own congratulations by tweeting:
"Warm congratulations to my friend @BarackObama. Look forward to continuing to work together."