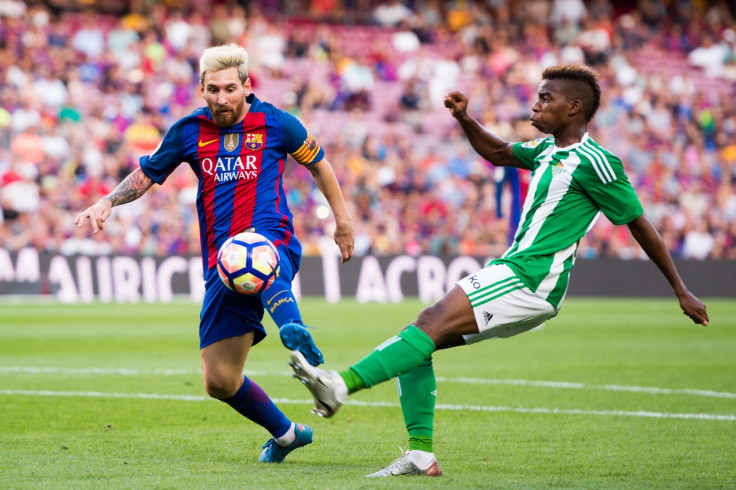 Barcelona will begin contract extension talks with Lionel Messi after the club's El Clasico showdown with Real Madrid on 3 December, according to reports.
Catalan daily Sport says Barca president Josep Maria Bartomeu is speaking to Messi's father Jorge and that the Argentina international could be offered a contract for life after El Clasico.
Both Manchester City and Manchester United have been linked with moves for the 29-year-old, whose current contract with Barcelona expires in 2018.
Messi netted twice in midweek to help Barca beat Celtic 2-0 in midweek and secure top spot in Champions League Group C. The Argentine had missed the Catalan club's 0-0 draw with Malaga on 19 November due to illness.
Speaking after the Celtic match, Messi refuted suggestions that Barcelona were too dependent on him.
"I don't consider talk of Barca being Messi-dependent to be praise or a concern because it's not the case," he was quoted as saying by ESPN.
"I'm in the best team in the world, [Barcelona] don't depend on one player."
Messi has scored eight goals in nine league appearances for the Catalan giants this season and is expected to start against Real Sociedad on 27 November. The Catalan giants have not won on their last seven visits to Anoeta.
"Anoeta is a complicated stadium where we haven't won in years," the 29-year-old added.
"Real Sociedad always make things tough for us there and it's going to be a hard game."
Speaking before the Real Sociedad match, Barca boss Luis Enrique said it was up to the club and Messi himself to speak about his future.
"I'm sure Messi and the club will give you the information when they have some and at the right time, but I have nothing to add to what I've said," he was quoted as saying by Sport.
"We all know how much media there is surrounding Messi, what he means for Catalonia and for Barca."
Barcelona are second in the La Liga table, seven points behind leaders Real Madrid.