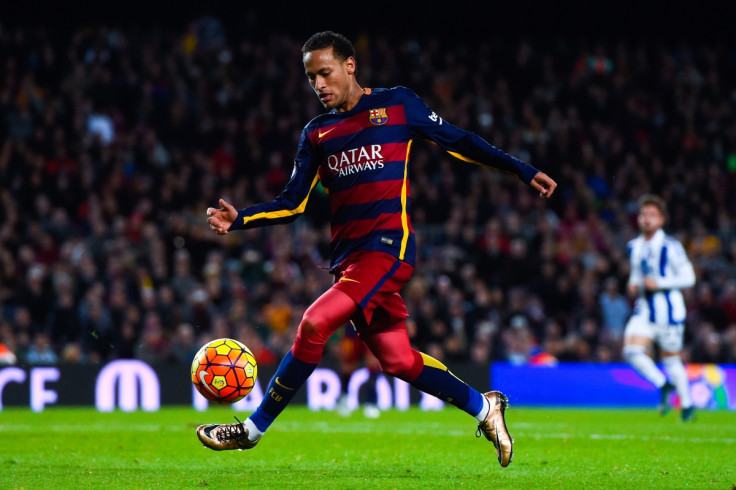 Neymar's father has revealed in court that the Barcelona ace received a multi-million offer to leave the Nou Camp amid reports linking both Manchester United and Real Madrid with plans to meet his €190m (£143.3m, $207m) release clause. Neymar Sr, though, said the Brazil star is likely to commit his long-term future to the Champions League winners and sign a new deal.
The 23-year-old's future at the La Liga giants has been under scrutiny since Brazilian newspaper Globo Esporte reported in August that Louis van Gaal was keen to meet his release clause and make him the most expensive player in history. Both Neymar himself and his father later confirmed United did try to secure his services during the summer mercato.
"Barcelona received a proposal, and the club told us they were not going to sell him," Neymar's father said to Brazilian station Boa Tarde Fox in October. "They asked if we were interested, but [we weren't]. Barcelona did not sell because he has three years left on his contract."
Speculation has increased amid the delays in the player signing a new deal, with his father warning that he would not renew his contract at Barcelona until his tax issues with the Spanish authorities were sorted.
Reports in Spain during the January transfer window claimed Real Madrid were closely monitoring the situation, while Mundo Deportivo said United are still keen on meeting his release clause and making him the marquee star of the Premier League side.
Speaking in court on Tuesday (2 February) in the ongoing investigation into the details of Neymar's transfer to Barcelona from Santos in 2013, Catalunya Radio claimed that the player's father confirmed his son had received an a mega offer from an unnamed club to leave the Catalan outfit.
Neymar Sr said the club would have been happy to pay considerably more than the player earns at Barcelona, but his son wants to remain at the Nou Camp for the foreseeable future.