Luis Enrique's Barcelona clinched their fifth trophy of 2015 after beating River Plate 3-0 in Japan on Sunday 20 December in the Club World Cup final. Only their August slip-up against Athletic de Bilbao in the Spanish Super Cup robbed them of the chance of matching the six trophies won in a calendar year under Pep Guardiola in 2009. Lionel Messi, Neymar and Luis Suárez have turned a dubious team into a perfect football prototype; a goal scoring machine. But, even though this wonderful trio will dominate headlines around the world in the coming days, there was a silent hero who added to a record-breaking year in Yokohama. And he is a goalkeeper.
Chile international Claudio Bravo put the icing on the cake as he lifted his sixth title in six months; five of them with Blaugranas and the Copa America with Chile. With all due respect to Victor Valdes, he capped off arguably the greatest season in football history for a goalkeeper. At the age of 32, he has reached the zenith of his development. Speaking to IBTimes UK, Roberto Navajas, Bravo's former coach at Real Sociedad, analyses his pupil's evolution and they key factors in his improvement.
Navajas is one of the most important people in Bravo's career. After cutting his teeth at his beloved Colo Colo, the goalkeeper arrived in San Sebastian and his first years at the Basque club were tough. Real Sociedad had been relegated nine months after his arrival and he did not play during their first year in Spain's Segunda Division. However, from 2008 to 2013, he was key in their journey from promotion to Champions League qualification in just three years. "When I arrived at Real, I had to work with Bravo from a psychological point of view. He had the ambition to fight for trophies with Real Sociedad and to grow and grow every season. However, for many reasons, he felt restricted inside his own club," Navajas said.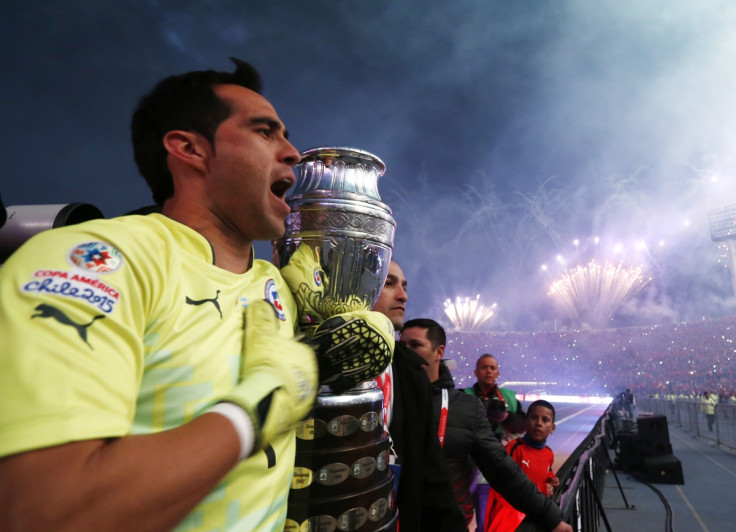 "You cannot restrict leadership, it is unnatural. It is not only the tactics or the technique, it is vital to work on the human side, the personal side. I emphasised on that with Bravo. He is a natural-born winner, his work volume was 30% or 40% higher than the rest of the players. And now, we all can see him with such self-confidence, with such ability to make good, risky decisions. And again, leadership. You have it or you don't. Claudio invited me to Madrid some weeks ago when he received the Ricardo Zamora Trophy (Spain's award for the goalkeeper of the season) and I could appreciate the good relationship he has with Messi and Neymar. It is based on respect. That is exactly what leadership is all about. You cannot restrict that."
When it comes to the technical side of his evolution, the former Real Sociedad goalkeeper coach remarks: "With the years, he has developed instinct – based on hard training, to anticipate some situations. He seems faster than ever and I have heard some people saying that now he is thinner. But they are wrong. Talking to him, he revealed that he is almost at the same weight. Again, it is the fact that he has been working on aspects such as anticipation, timing, positioning, space and reading of the game and the forward's movements. Besides that, he does not need to look for the most spectacular save. He seeks efficiency. And he has been able to adapt naturally to new 'footballistic' situations. He was used to taking part in the game every five or 10 minutes at Real Sociedad, before arriving at the Camp Nou. Today, it is a matter of two or three situations per game in which forwards arrive to the box after 30 yards running during a counter attack. His role has changed. It is not easier or tougher. It is a matter of adaptation. And there, again, we need to make note of his mental strength and spirit to overcome."
Is Claudio Bravo the best goalkeeper in the world? Navajas gives an interesting answer to that question. "He is the best goalkeeper for the best team in the world. What I mean is that, when it comes to answering that question, you need to understand the context. Barcelona's game style demands accurate footwork and passing.
"He is the best goalkeeper Barcelona can have for their own style. But let's not forget the human factor. Under my tenure at Real Sociedad, he played a major role in some players' personal evolution. Some examples? He worked a lot with Antoine Griezmann and Carlos Vela. It is obvious that he is a superb player on the pitch. But during his career, some have underrated his ability to motivate his team mates and that was a big mistake, as we can see today."