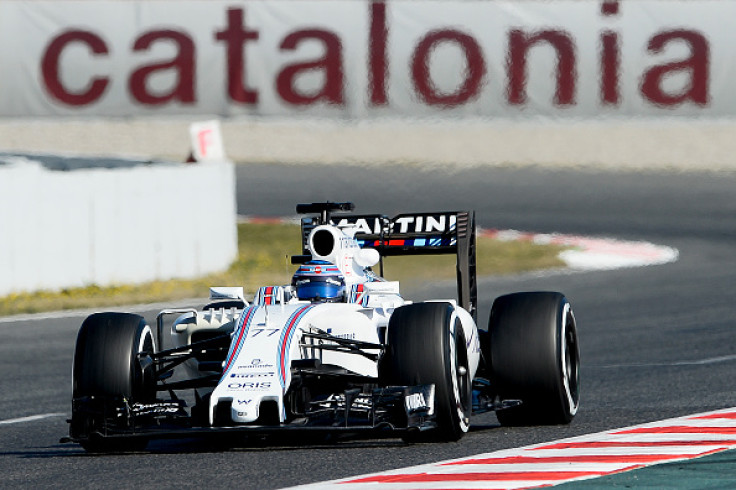 Williams set the fastest time on day 2 of the second pre-season test at the Circuit de Catalunya with Valtteri Bottas at the wheel. Along with the Frank Williams-owned team, Ferrari, McLaren-Honda, Mercedes, Red Bull, Renault and Toro Rosso showed impressive reliability as all of them completed over 100 laps.
Haas Racing Team, however, suffered reliability issues for the second day in a row after Esteban Gutierrez managed just one lap before retiring to the garage for the rest of the session. Wednesday saw them drop out with a fuel sensor issue, while day 2 saw them struggle with a problem to their turbo unit. This lack of reliability is surely set to hamper their start to the season.
Mercedes continued to show their dominance through the number of laps accrued and they are the only team to employ a split strategy, where they have both their drivers taking part in the test on all four days. Bottas, who finished day 1 in second place behind Nico Rosberg, took over at the front with a 1.23:261 on the super-soft compound tyres. Mercedes dropped their pace as they focused more on race simulation runs.
Ferrari took a similar approach to their title challengers by taking a leaf out of Mercedes' book and sticking to the medium tyres throughout the day as Sebastian Vettel concentrated on set-up work. After their recent reliability issues, the Maranello-based team will be glad to have clocked up 151 laps.
The McLaren-Honda arrived at the second test with an updated power unit and seem to have solved their troubles that affected them at the end of the first pre-season test. They completed 121 laps, with Jenson Button stating their new unit is the biggest upgrade since the engine manufacturer's return to the sport.
Drivers' reactions after day 2 of the second pre-season test in Barcelona, as quoted by ESPN F1.
Lewis Hamilton – Mercedes
"Reliability is our strength at the moment. The strength within the team has grown even further. It's really motivating for the season. The car was good, quite strong, we did some lower fuel running today but some work needs to be done balance wise. Getting onto the softer tyre was a good experience but we've got some work to do still."
Sebastian Vettel – Ferrari
"I would have liked to drive a little bit more but we are happy with what we have so far. I am not concerned about what happened to Kimi. Obviously, you don't want these things to happen but if they do here, during a test, it's ok. It would be worse if they happened in a couple of weeks, so it is not an issue. This is a test and it takes time to look and check everything. We still have time and two days left here, so let's try to use them and the we'll see. We will push and try to do everything. Our President already said a couple of times he is expecting Ferrari to be in the front row in Australia, so at least he is consistent. We will push and will try everything we can."
Valtteri Bottas – Williams
"It's been another good day. That's it for me now for testing before we go to Melbourne. I'm feeling prepared and good in the car. I'm glad we have made progress during testing and I'm sure we will do even more before Melbourne. That's it now for driving from my side. There's more to follow in the next two days as we will discover more with Felipe. Thanks to everyone in the team for all their hard work over the last two tests and thanks also to Mercedes HPP. "
Jenson Button – McLaren-Honda
"The important thing is that we've been able to do quite a few laps over the last two days - we know we need to keep pushing in terms of reliability so that we can reduce any niggly problems at the first race. In terms of set-up work this afternoon, it was quite difficult because it was so windy out there, and I don't think it was just us that were affected. The package seems to be running smoothly and you can feel a difference from last year, which is positive. There's still a lot of work to do over the two days we have left, for us to feel that we are really ready for the first race."
Esteban Gutierrez – Haas Racing
"As you can imagine, today has been a bit frustrating. However, we're working really well as a team to resolve the situation. Testing is about solving these issues ahead of the first race. The team has been doing a great job working very closely together, preparing the car day and night. I'm confident we'll have a positive outcome for the rest of the test."
Daniel Ricciardo - Red Bull Racing
"Quite a lot of laps today. Obviously we did a race simulation, which was definitely on the to-do list and I'm glad we got through it successfully. It was important to do that today and also important for me to do the laps to see how my body feels and it was positive on both sides. The car feels very decent. The last half hour on track the wind picked up a bit and the sun got a bit lower so that made it a bit more challenging but otherwise a pretty good run today."