Barcelona have been encouraged to sign Paulo Dybala if Neymar finally completes his move to Paris Saint Germain. A poll conducted by Catalan publication Mundo Deportivo reveals the Juventus forward is the supporter's number one candidate to replace the Brazil ace ahead of Borussia Dortmund's Ousmane Dembele, Atletico Madrid's Antoine Griezmann and Real Madrid target Kylian Mbappe.
The La Liga giants have been linked with a number of marquee players in recent days as the club prepare for life without Neymar.
Mundo Deportivo - a publication mainly read by Barcelona fans - launched a poll suggesting 13 candidates to replace Neymar, yet nearly half of the readers urged the club to sign Dybala.
Around 47% of the readers (more than 10,000 people) believe that the Juventus forward should be the primary target if Neymar leaves while only 14% voted in favour of France forward Dembele.
Griezmann finished third with 11% of the votes while only 10% of the Mundo Deportivo readers would replace Neymar with Monaco teenager Mbappe - despite the starlet being heavily linked with rivals Real.
Meanwhile, Chelsea star Eden Hazard and Paris Saint-Germain's Marco Verratti - identified as manager Ernesto Valverde's preferred target this summer - only scooped 4% of the vote.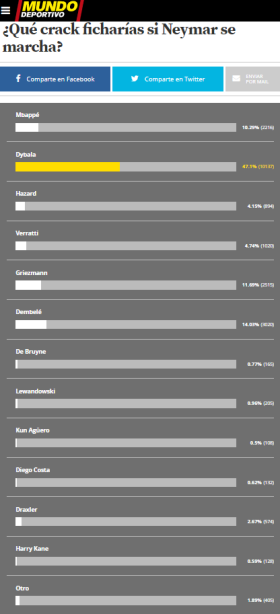 In a separate deal, Barcelona are also said to be in negotiations with Liverpool over the signing of Philippe Coutinho.
The Anfield ace did not appear in the poll as the Catalan club are pursuing him regardless of whether Neymar leaves for PSG or not – as they see him as a long-term replacement for Andres Iniesta rather than a replacement for his international teammate.
Dybala, meanwhile, is seen as a potential candidate to complete a new-look attacking trident alongside Luis Suarez and his compatriot Lionel Messi.
Mundo Deportivo recently reported that Barcelona have first option on the Juventus forward and could acquire him for €120m (£107m, $141m) thanks to a special clause insisted upon by the Argentina international when he signed a new deal at the Serie A giants in April.
Barcelona should have no problem matching the release clause once PSG pay them the €222m fee which will see Neymar move to the French capital.
Dybala recently suggested that he will only leave Juventus if the Serie A giants decide to sell.
"It's pleasing to know that big clubs are interested in you because it means you are doing well," Dybala said recently during the Juventus' pre-season. "Then again, you've got to see what is actually true, because some is and some isn't. You'd have to ask the club [if I'm definitely staying]. I am happy here and I am training as hard as I can these days for a great season. If an offer were to arrive, it would be up to the club to show it to me and up to them to say if they want to sell me or not. It's up to them first, and then me."