Neymar is considered as one of the main candidates to succeed Lionel Messi and Cristiano Ronaldo as the best football player in the world. He was compared with Pele during his early days at Santos before joining Barcelona in 2013. Here's everything we know about the Brazilian forward so far.
Who is Neymar?
Neymar fact file
Real Name: Neymar da Silva Santos Júnior
Date of birth: 5 February 1992
Home town: Mogi das Cruzes, Brazil
Height: 5'9
Weight: 150lbs
Twitter: @neymarjr
Instagram: @neymarjr
Facebook: @neymarjr
Official website: http://www.neymaroficial.com/
Neymar was born on 5 February 1992 in Mogi das Cruzes, São Paulo, Brazil. He is known Neymar Junior because of his father, who is currently his agent. He has a child named Davi Lucca with ex-girlfriend Carolina Dantas and is currently in relationship with Brazilian actress Bruna Marquezine.
The Barcelona forward began his playing as a kid for Portuguesa Santista but in 2003 attracted the attention of Santos. The Brazilian forward quickly started to be considered as the next big thing to emerge from the Peixe academy, which had previously overseen the emergence of other major stars like Pele and Robinho.
He had a trial at Real Madrid in 2005 but decided to continue his development with Santos. On March 2009 he was handed his first-team debut at the age of 17 and only days later he scored his first goal for the club in a game against Mogi Mirim.
Neymar scored 69 more goals for Santos in 139 appearances, helping them to win the 2010 Brazilian Cup, the 2011 Copa Libertadores and three straight Sao Paulo state championships between 2010 and 2012.
Chelsea, Manchester United and Real Madrid tried to lure him to Europe but he instead decided to join Barcelona in the summer of 2013 to play alongside his idol Lionel Messi. Neymar has since continued his development to become into one of the best players in the world. In 2015 came third in the Ballon D'or award while has also helped Barcelona to conquer a number of titles, including the Champions League in 2013-2014 and two La Liga crowns. Furthermore, he led Brazil to their first men's Olympic football gold medal in Rio 2016.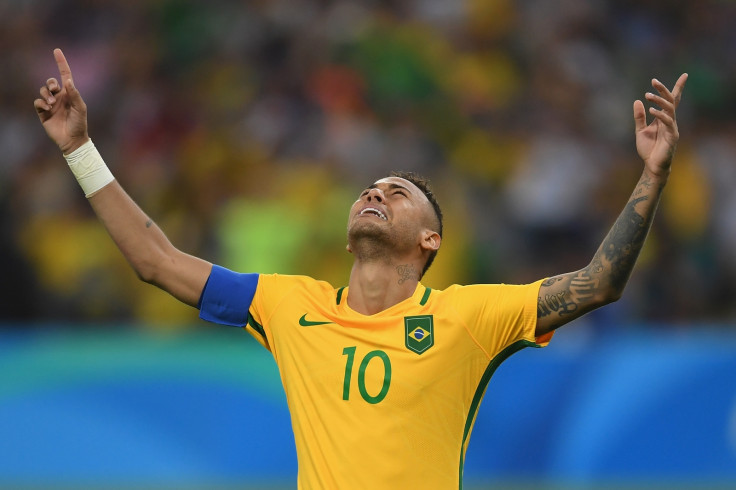 What are Neymar's career highlights?
He led Santos to win the 2010 Brazilian Cup, the 2011 Copa Libertadores and three straight Sao Paulo state championships.
Neymar won the Puskas Award for his solo strike against Flamengo in 2011.
He won South American Footballer of the Year award in 2011 and 2012.
Former Santos star helped Brazil to win 2013 FIFA Confederations Cup, being named the best player of the tournament
Brazilian joined Barcelona from Santos in 2013
He conquered the treble – Champions League, La Liga and Copa del Rey – with Barcelona in the 2013-2014 campaign
He was named in the Champions League team of the season 2014-2015, being the top scorer of the competition alongside Lionel Messi and Cristiano Ronaldo
Barcelona star came third in the Ballon D'or award in 2015, only behind Messi and Ronaldo
Neymar led Brazil to their first men's Olympic football gold medal in Rio 2016, scoring the winning penalty to final win over Germany.
Brazilian scored two goals and gave one assists in a 6-1 win over Paris Saint-Germain to lead Barcelona to one of the greatest comebacks in football history on March 2017.
What's Neymar release clause?
Neymar committed his long-term future with Barcelona in July 206 after signing a five-year deal at the club, with the club setting his release clause to €200m for the first year of his contract, €222m for the second and €250m for the remaining three.
The Brazilian had previously linked with the likes of Manchester United and Paris Saint Germain.
What's Neymar net worth and salary?
The Richest estimate that Neymar's net worth in 2015 was $75m. In 2015, The Forbes said that the Brazilian international earned $14.5m in salary plus a $23m in endorsements thanks to his deals deals with brands like Nike, Red Bull, Panasonic, Konami and Gillette.
What Neymar says about Messi
Neymar has publicly said that one of the main reasons to join Barcelona in 2013 was to play alongside his idol Lionel Messi. The pair have since forged a great friendly and in 2016 Neymar said: "Messi is not only my friend, he is also my idol, and I will always support him."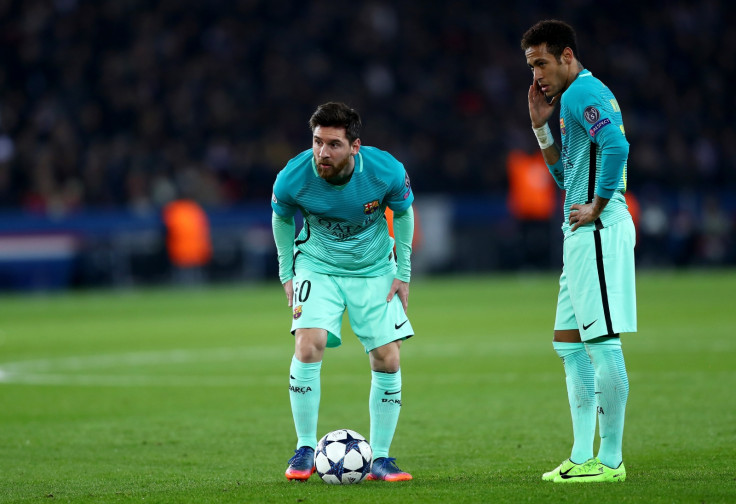 "Football without Messi isn't football, it's hard to imagine it without him. If you like football at all, then you can't help but admire Messi and everything he's achieved for Argentina and Barcelona."
When did Neymar join Barcelona?
Neymar agreed his move from Santos to Barcelona in the summer of 2013 after having been previously linked with the likes of Chelsea and Real Madrid. The La Liga giants initially claimed to have paid €57.1m for his services but a year later the club admit the real price of the deal was €87m – a scandal that forced former club president Sandro Rosell to resign.
The deal has since been under investigation in Spain as later emerged that Santos only received €17m from the sale of one of the club's jewels.
Who Neymar is dating?
Bruna Reis Maia is Neymar's girlfriend since late 2016. Born on 4 August 1995, she is now a telenovela actress and a model in Brazil known as Bruna Marquezine.
She started her career as a kid doing some commercials but become famous in 2003 following an appearance in a popular soap opera called opera Mulheres Apaixonadas (Women in love).
The Brazilian actress began a relationship with Neymar in 2012 but in August 2014 both announced their break up. However, two years later they got back together.