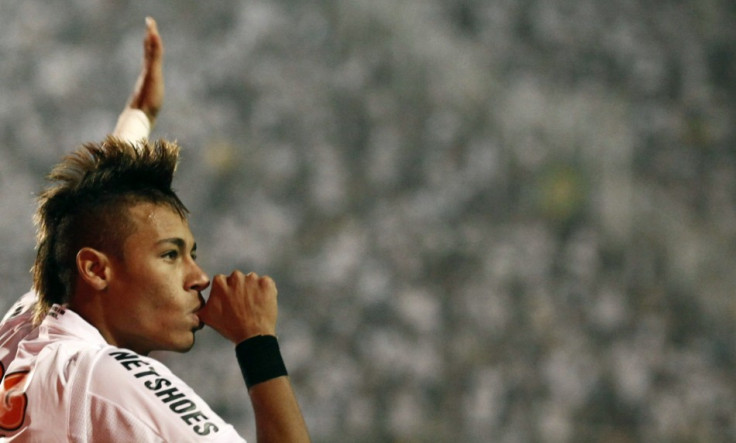 Santos have denied reports that a deal is in place to sell highly-rated striker Neymar to Barcelona in 2013.
Speculation in the Brazilian media last week suggested Neymar would move to the Nou Camp in 2013 after the two clubs had negotiated a €60million (£52.5m) fee for the 19-year-old.
But the Copa Libertadores champions moved to quash the speculation in an extensive statement issued over the weekend.
"Because of the special interest manifested in the last few days by the press related to Neymar, Santos Futebol Clube officially informs that the information that it has sold the economic rights of Neymar is not true," the statement said.
"The club's board of directors always had the intention of keeping Neymar in the team and for that has built a very promising career plan to make his stay in Brazil viable. For months now the board of directors of Santos Futebol Clube has been approached by several foreign clubs interested in Neymar, including clubs from Spain.
"Neymar and his family always mention the intention of making the transfer to Europe at some point in the future as part of the project for the international career of the player. The board of directors of Santos Futebol Clube will manifest itself again in the case of any relevant topic emerging in this context and reaffirms its drive to count on Neymar's talent for many more matches, championships and finals."
Neymar's future was the subject of intense speculation throughout the summer, with the Brazil international was also linked with Real Madrid and Chelsea.
Meanwhile, Barcelona vice-president Josep Maria Bartomeu believes Arsenal should have demanded closer to their initial £50m valuation of Cesc Fabregas, after watching the midfielder's impressive start to the new season.
Fabregas, 24, completed his protracted transfer to the European champions in August, with both sides locked in negotiations for over 12 months. Barcelona eventually agreed a deal worth an initial £25m, with a further £10m in add-on fees based on performance.
"The transfer of Cesc was a very good deal for us," Bartomeu told Catalan newspaper Sport. "The price on the open market wouldn't have been €29m but he lowered his value by saying that he really wanted to go to Barcelona. His real price was what Arsenal initially asked - at lead €60m. The fact that we announced in advance that we would only spend €45m this summer worked to our advantage. Clubs were already aware of our position."