Barcelona may appeal against Luis Suarez red card in Atletico Madrid draw
Suarez suggests sending off was unjust and urges club to appeal against decision.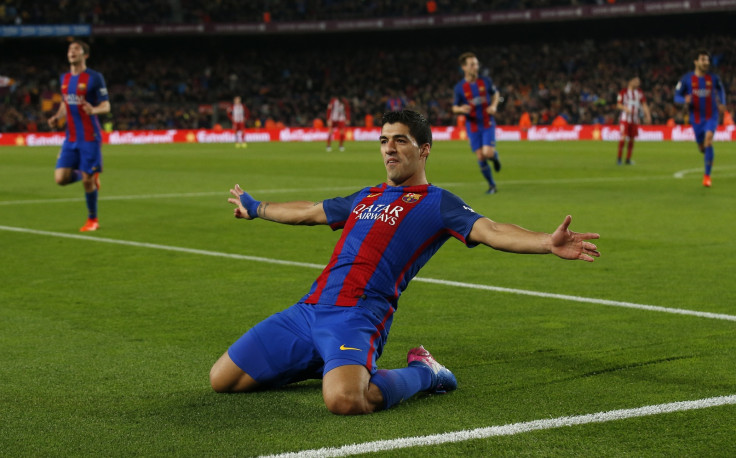 Barcelona boss Luis Enrique has said he will support an appeal against Luis Suarez's sending off in the 1-1 Copa del Rey draw with Atletico Madrid on 7 February.
Suarez scored for Barcelona late on in the first half at Camp Nou to help them clinch the semi-final tie 3-2 on aggregate, before being given a second yellow card for clashing with Koke towards the end of the match.
The Uruguayan forward is now set to miss the final against Deportivo Alaves or Celta Vigo, along with defender Sergi Roberto, who was also sent off for receiving two yellow cards in the second leg against Atletico.
Speaking after the match, Enrique said the club will appeal against the red cards but was sceptical of getting the bans overturned.
"I'm in agreement with appealing, but if you look at the past you will see what good appeals have been for us," he was quoted as saying by ESPN.
"It frustrates me that players on my team miss finals, but at the end of the day it's something which happens in football. The referee felt that both Suarez and Roberto deserved two yellow cards.
"I was about to take Roberto off because of the booking he had. He's made three challenges and he's been given two cautions. We felt he could maybe get a second, but we didn't react quick enough."
Suarez argued that his second yellow card was unjust and urged the club to appeal against the decision.
"I'm laughing at that second yellow, it's not even a foul," he was reported as saying. "I did absolutely nothing. I hope the club will appeal it.
"It's something which doesn't have an explanation. The referee hasn't given me one, like always, but we're already accustomed to this."
Enrique said he was not thinking about how to replace Suarez should he miss the final through suspension.
He said: "It's not until May, there's a long time to think about that."
© Copyright IBTimes 2023. All rights reserved.