Barcelona will make a move for Valencia goalkeeper Diego Alves should either Marc-Andre ter Stegen or Claudio Bravo leave during the current window, according to Sport. The news comes amid ongoing speculation linking one of the pair with a move to Manchester City, as new boss Pep Guardiola is understood to be eager to sign a custodian who can play with the ball at his feet.
The futures of Ter Stegen and Bravo at the Nou Camp have long been under scrutiny, with the pair having to put up with Luis Enrique's rotation policy between the sticks. The Germany international has featured in the Champions League and Copa del Rey, but serves only as a back up in La Liga.
The German, who had previously been linked with Liverpool, appeared to kill off the speculations in May after giving an interview to Barcelona's official website confirming he was ready to stay in Catalonia for the long haul.
Reports at the time suggested Ter Stegen's decision came after Luis Enrique promised to give him the starting role in all three competitions for the 2016-17 campaign.
It therefore seemed Bravo would be on his way out of Barcelona during the mercato, as Guardiola could well see him as one to dethrone Joe Hart from the top spot at Manchester City.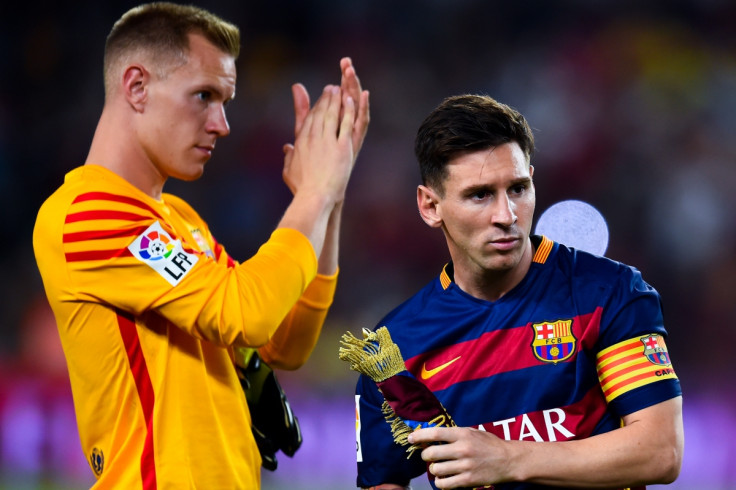 It is claimed that, last week, Bravo met with club officials to request a move if he was no longer the first-choice starter for league matches.
Meanwhile, Mundo Deportivo spotted Ter Stegen and his agent at Barcelona's offices on Tuesday (2 August). Sport claims that during the meeting Ter Stegen informed the club he had received a big-money offer to move to City, and that he wants assurances over his one role if he is to stay.
Barcelona apparently did not give the player the clarification he wanted, but it is believed they will not negotiate his departure at any price. The only way City could sign the player, therefore, would be by meeting his €80m (£67.1m, $89.6m) release clause in full.
The Catalans consider the 24-year-old as a key part of their future, with the 33-year-old Bravo seen as essential in the short-term. However, if one player was to be sold it would presumably be the Chilean, due to his advanced age.
Regardless of what happens, Sport claims Barcelona have a Plan B should either Bravo or Ter Stegen leave, as they have lined up Diego Alves as a replacement.
The Spanish publication has suggested the current La Liga champions have already sounded this option out with Valencia and the keeper, adding that Alves has put three major offers on hold, including two from the Premier League, to wait for Barcelona's call.