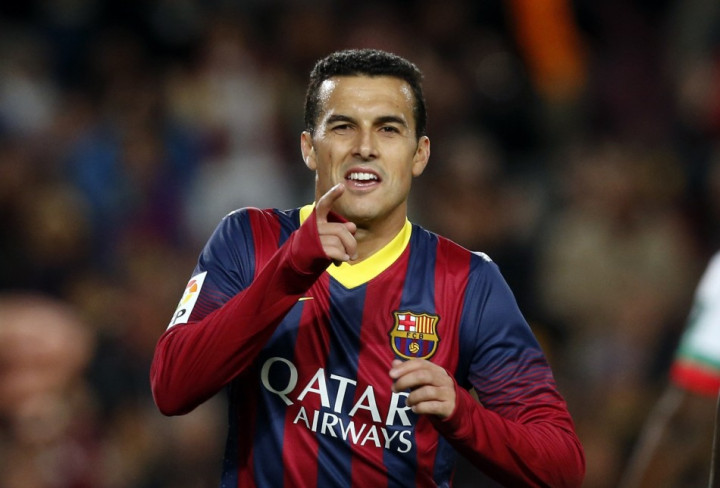 Barcelona star Pedro Rodriguez has heaped praise on Chelsea duo Diego Costa and Cesc Fabregas - claiming his compatriots have received "unfair" criticism in Spain in recent times.
Costa, is the current Premier League top scorer with nine goals in seven appearances since his £32m summer move from Atletico Madrid.
However, some pundits in Spain are questioning whether he fits into Spain's tiki-taka style as, surprisingly, he has yet to score a goal for his country after five appearances.
"He is very eager to help his team-mates here, and is aware that things have not gone as well as he has intended so far" Pedro told Catalan newspaper Sport.
"However, he will bring many things to this team and he is going to be with the national team for a number of years.
"He is going to help us a lot here [in the Spanish national team]. I repeat that he is eager to assert himself here and to score goals. If he continues in this way with his work he is going to score many goals for the team."
While Costa is currently under "unfair" scrutiny in Spain, the Barcelona star believes Fabregas was also undervalued during his three-season spell at the Nou Camp.
The midfielder left Arsenal in 2011 in the hope of realising his childhood dream of playing in the Barcelona first-team. However, he failed to make the impact expected and was eventually forced to go back to the Premier League this summer.
"I think Cesc is being valued just how he should be in the Premier League – I felt he had quite a bit of unfair criticism at Barcelona" Pedro said.
"I'm not surprised what he's achieving with Chelsea because he's a great player – one of the best midfielders in the world, who connects well with the forwards and has terrific vision. I'm happy for him that he's doing well."
Fabregas has eventually since become a crucial asset in Jose Mourinho's line-up, providing balance to the team alongside Nemanja Matic while grabbing seven assists in nine games.