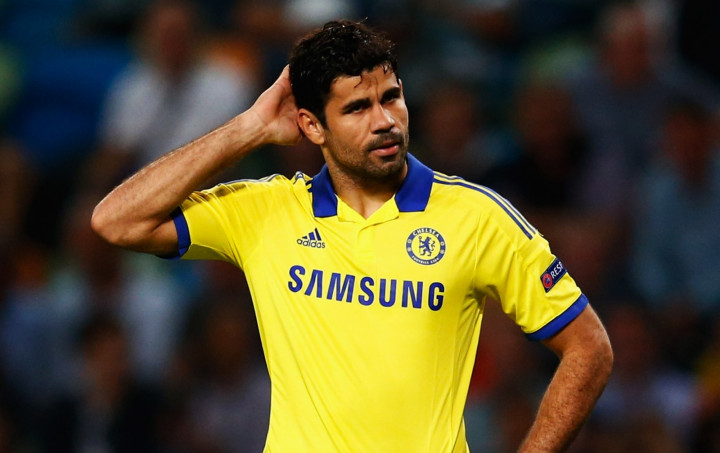 Chelsea will receive a fee of €20.575 (£16,000) per day should striker Diego Costa suffer a long-term injury on international duty, reports in Spain claim.
The Premier League's top scorer is on international duty after being included by manager Vicente Del Bosque for the European Championship Qualifiers against Slovakia on Thursday 9 October and Luxembourg, three days later, despite Jose Mourinho's concerns about his fitness.
Costa ended last season struggling with hamstring injuries and suffered a recurrence during the last international break, in the friendly defeat to France on 4 September.
Mourinho has since insisted Costa is unable to play more than once a week.
However, the Chelsea boss himself risk him by starting all three succesive games against Aston Villa, Sporting Lisbon and Arsenal last week, stating he would not save the striker so he would be in "perfect condition" to play for the national team.
Del Bosque looks also ready to risk Costa on Thursday for the Spain's game against Slovakia.
Spanish newspaper AS claims if Costa picks up an injury on international duty that causes him to miss 28 or more days of service for Chelsea, the Blues will receive a fee of €20.575 per day as compensation – according to Fifa's Club Protection Programme policy.
The regulations allow every football federation to have special insurance in place to cover players who suffer injuries while representing their national teams.
AS reports the levels of insurance payments fluctuate according to the contract of each individual player and, in Costa's case, Chelsea would receive the maximum of €20.575 per day.
Meanwhile, the striker has tried to calm Mourinho's concerns about his fitness, claiming he will not take any risks with Spain if he is struggling with his hamstrings.
"All I want to do is be a success with the national team," Costa said. "Mourinho hasn't said anything to me and it's also up to me to make my decisions, based on how I'm feeling, although the manager and the coaching staff do have input. If I play injured then that only makes things worse, so I won't do so if I'm not feeling right."