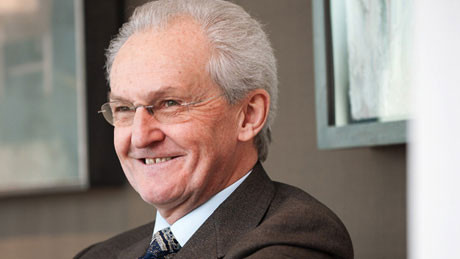 The man in charge of green lighting Barclays annual bonus pool has come under close scrutiny after he bumped up staff rewards despite a profit fall and 12,000 person headcount cull.
Sir John Sunderland, the head of Barclays' remuneration committee, is facing anger from shareholders and business groups over rubber stamping an increase in bonuses.
Sunderland famously said Bob Diamond deserved his 2011 £2.7m bonus, in spite of millions of pounds in Libor fixing fines being paid by Barclays under his tenure.
Alison Carnwath, who was in charge of remuneration at Barclays prior to Sunderland, claimed she has been a "lone voice" in recommending that Diamond receive "zero bonus".
Sunderland replaced Carnwath when she quit in 2012, but this week's events have drawn fire concerning the former's amenability when it comes to handing out bonuses.
"Given the problems highlighted by outgoing director Carnwath, PIRC did not support the re-election of Sir John Sunderland, the Remuneration Committee chair, last year, and taking into consideration the current poor decisions over remuneration and bonuses, PIRC will again be opposing his re-election this year," said a spokesperson for shareholder group PIRC.
The Institute of Directors said "that re-electing Sunderland will risk inviting further questions about just how sensitive they are to the public's mood and expectations."
According to Barclays' full year financial results, it will axe 12,000 jobs to cut costs and a 32% fall in profits to £5.2bn last year.
The bank is axing 7,000 jobs in the UK and 5,000 from across the globe as it aims to pare back its 140,000 total headcount.
It confirmed that it has already told about half of the staff affected.
Within the same statement, Barclays said it increased staff bonuses and incentive rewards to £2.38bn in 2013, from £2.17bn in 2012, despite the bank racking up hefty mis-selling compensation payouts and posting a drop in earnings.
However, Barclays' chief executive Antony Jenkins announced that will not take a bonus for 2013 as his bank continues to shell out billions of pounds on compensation, regulatory and litigation costs relating to past bad behaviour.
He also turned down a £2.75m bonus the year before, though Jenkins still pocketed a remuneration package worth £8.6m.
Who is Sir John Sunderland?

Sunderland is the former Cadbury Schweppes boss and is currently the chairman of London Eye owner Merlin Entertainments.

He is also an adviser to private equity group CVC Capital Partners, association member of private healthcare group Bupa, Governor of Reading University Council and Chancellor of Aston University.

He is also a non-executive Director of AFC Energy.

He was Director of the Financial Reporting Council (2004-2011), Deputy President of the Chartered Management Institute until 2009 (President 2007-2008) and Deputy President of the CBI until 2008 (former member and President).

He has been a non-executive director at Barclays for nine years.

According to the UK Corporate Governance Code, guidelines recommend that all members of remuneration committees should be independent and that those who have been on the board for more than nine years lose their independence.

Tim Breedon, non-executive director and former Legal & General boss, is tipped to be put forward to take over from Sunderland.