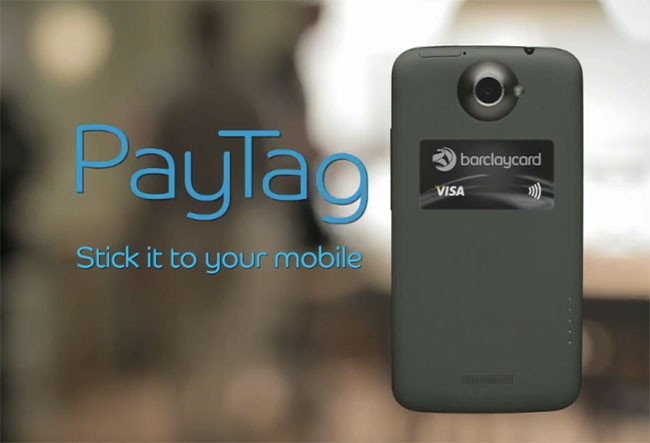 Barclaycard users can now pay for goods with a swipe of their mobile phone, thanks to the new PayTag card that sticks to the back of most handsets.
While not using the phone's technology or battery in anyway, the PayTag is a near-field communication (NFC)-enabled card that carries the user's bank account details and uses the same technology as Transport for London's Oyster card.
PayTag works by holding the sticker over a pay terminal - no PIN or signature is required - and payments of up to £15 can be made, with that limit raising to £20 in June.
Barclaycard has embraced mobile technology more than any other bank in the UK - with NFC chips installed in its regular credit cards - as well as launching the Ping It mobile app for iOS, Android and BlackBerry, which lets users transfer money by only exchanging phone numbers - not bank account details.
NFC technology features in some high-end smartphones, such as the Samsung Galaxy Nexus which we reviewed in December, but the technology has yet to take off in the UK as much as backers would have hoped.
Due to the £15 limit for each transaction, contactless payment is currently limited to places selling food, such as McDonald's, Pret, Subway and cafes.
There are currently 14 million contactless cards from Barclays in use in the UK and Visa predicts that the number of point-of-sale terminals accepting the cards will rise by 50 percent this year to 150,000 in the UK.
David Chan, CEO of Barclaycard Consumer Europe said: "We are offering the choice of mobile payments to millions of our customers at no additional cost to them. More than half of us say that the item we're most lost without is our mobile phone, so we're giving people the option of using them to make easy, convenient, everyday payments without the need to upgrade their current handset."
With no PIN to enter, security concerns over contactless payments have been raised, with a Channel 4 investigation in March revealing that smartphones with NFC chips can be adapted to take information from barclays-issued Visa cards with one swipe.
Barclays defending its technology, however, telling the broadcaster that the issue is not with contactless cards, but with checks undertaken by some retailers. The bank added that the customer details obtained should not be sufficient to gain access to their money.
The bank said that the system is "safe and secure," adding that it comes with "the same 100 percent fraud protection as any Barclaycard.