The Barnes & Noble Nook Simple Touch GlowLight ereader with 7in front-lit screen goes on sale in the UK today, 29 October, priced at £109.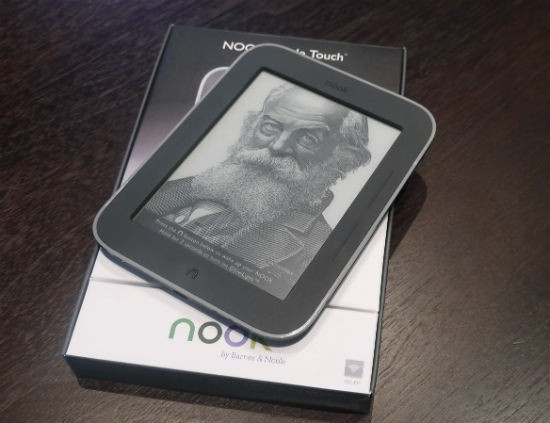 B&N's Nook Simple Touch, which also goes on sale today, features the same touch screen, but misses out on an illuminated display - although at £79 it's £30 cheaper.
Joining the ereaders, B&N's Nook Store opens its doors to the UK, with more than 2.5 million books to choose from and a range of newspapers and magazines, as well as titles from independent publishers and self-publishing authors through the company's PubIt programme.
The Nook Simple Touch GlowLight has a 6in touchscreen display, 2GB of internal storage (enough for 1,000 books and can be expanded with a microSD card to 32GB), Wi-Fi and a battery life claimed to be two months with the screen light off, and one with it on constantly.
Battery life claims for ebook readers are often based on around 30 minutes of reading per day with one page turn per minute, so estimates of between one and two months are fairly rough and your personal results may vary.
With a price of £109 it costs exactly the same as the similar Amazon Kindle Paperwhite (also featuring a light screen) and is £10 more than the front-lit Kobo Glo.
Although we got on well with the Nook, we found B&N's battery life claims to be a little off, with our review unit lasting less than a month on a single charge, although that was during prolonged use.
With the Nook out today, Kobo Glo already for sale, and the Kindle Paperwhite also on sale - although online orders have been delayed to mid-December - the ebook reader market is looking healthy, with three very good devices to choose from.
Jamie Iannone, president of Nook media, said: "We're thrilled to be able to bring our award-winning products and expansive Nook Store to the UK's discerning customers.
"The Nook brand was created for people who live literature and reading, which is why the UK was a natural place for us to begin our international expansion."
Android Nook HD coming soon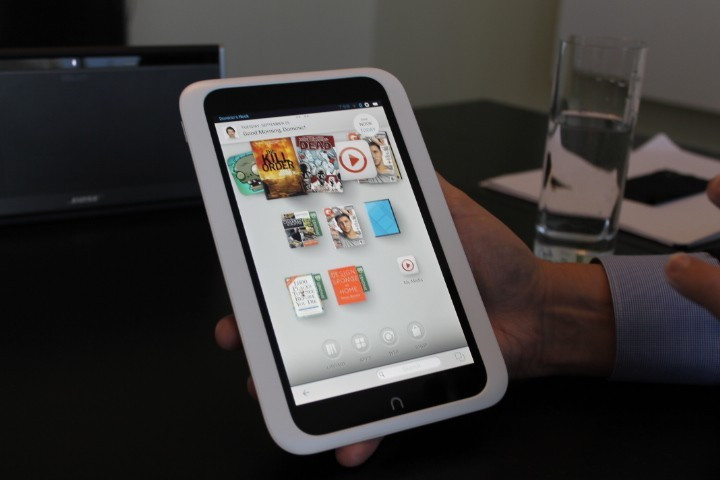 Following both Amazon and Kobo, B&N will also have a range of (heavily modified) Android tablets on sale in time for Christmas, with pre-orders for the Nook HD and Nook HD+ starting today; both tablets are due to ship from 22 November.
The 7in Nook HD will cost £159 (8GB model) and features a resolution of 1440 x 900 and a pixel density of 243 pixels per inch (ppi) - higher than the Google Nexus 7, Kindle Fire and iPad mini.
B&N's Nook HD+ is a 9in Android tablet with a screen resolution of 1920 x 1280 and a pixel density of 256ppi, just shy of the iPad's Retina display, which has a density of 264ppi.
Powered by a 1.5GHz processor with 1GB of RAM and storage starting from 16GB (plus expansion with a microSD card), the HD+ starts at £229, significantly cheaper than the £399 16GB iPad and cheaper even than the 7.9in iPad mini, which starts at £269.